Keeping It In the Family: Sirelines in the 2016 Kentucky Oaks
The pensioned A.P. Indy
A.P. Indy (Seattle Slew) hasn't stepped into a breeding shed in five years but this Kentucky Oaks, open only to 3-year-old fillies, has the 27-year-old stallion's mark all over it.
The oversubscribed Oaks field has 15 entries with 14 fillies automatically in the gate and one waiting on the outside looking in. Some of the top stallions in the sport are seen in the first two or three generations on the fillies' pedigrees in both the sire and broodmare sire lines but none more than the 1992 Belmont Stakes winner.
While A.P. Indy isn't the sire or broodmare sire of any runner in the race, he is the grandsire or great-grandsire of nine of the runners with seven sired by his sons or in two cases, grandson. In the two other cases, he is seen on the bottom side of the pedigree with his sons' daughters producing the runners. As far as his representation with sires go, Bernardini and Tapit are responsible for four of those runners with two each including the morning line favorite Rachel's Valentina (Bernardini).
Full brothers Flatter and Congrats provide A.P. Indy with one runner apiece while Mineshaft is the only son that is both a sire and broodmare sire of runners.
Tapit is playing a big part in keeping Pulpit's branch of the A.P. Indy sireline alive, giving his sire two representatives in the Oaks but he isn't the only one by providing a runner for that A.P. Indy son. Land Over Sea (Bellamy Road) is out of the Pulpit mare Belle Watling who also produced Kentucky Derby starter War Story (Northern Afleet) last year.
While Belle Watling won't be giving Northern Afleet a major 3-year-old graded stakes winner this year, his son Afleet Alex will.
Afleet Alex
Afleet Alex, who won two legs of the Triple Crown in 2005, is the sire of Dream Dance. A multiple stakes placed filly, Dream Dance is out of a Vindication mare, which gives Seattle Slew yet another representative in the race. Overall, the 1977 Triple Crown winner can be found in the sire line of the sire or broodmare sire of 10 of the 14 fillies currently in the gate for the Kentucky Oaks.
Like it was when they reigned as sires, A.P. Indy is joined by Storm Cat as being a dominate force in the pedigrees of this year's Kentucky Oaks.
While Storm Cat isn't seen in as many pedigrees as A.P. Indy in this field, he is the broodmare sire of Grade 1 Ashland Stakes winner Weep No More (Mineshaft), who also traces back to A.P. Indy through his son Mineshaft. Storm Cat only has one son who sired a prospective starter in Pure Prize, whose Dothraki Queen is the only filly on the also-eligible list. But Storm Cat takes a more active role in the lower half of pedigrees.
Storm Cat is the sire of three of the broodmare sires in the Oaks with his son Giant's Causeway taking him for the biggest ride this season.
Giant's Causeway, who is the damsire of Taxable in this race, has been found in the pedigrees of runners in three of the four major 3-year-old races in England and the United States during this seven day stretch. While the colt entered for the QIPCO 2,000 Guineas scratched before final entries came out, ending his clean sweep of this week's classics, his son Shamardal was the sire of two 1,000 Guineas runners on Sunday. On Saturday, it is expected that the Storm Cat son will have two sons in the Kentucky Derby with Candy Ride's Gun Runner giving him the distinction of being the only stallion in the race who is there as both a sire and broodmare sire.
Overall, 12 sires are represented in the current entries with three having two entries each (Bernardini, Tapit and Uncle Mo). Five stallions look to be represented by both Kentucky Derby and Kentucky Oaks horses this weekend with Uncle Mo and Tapit having at least two runners in each race.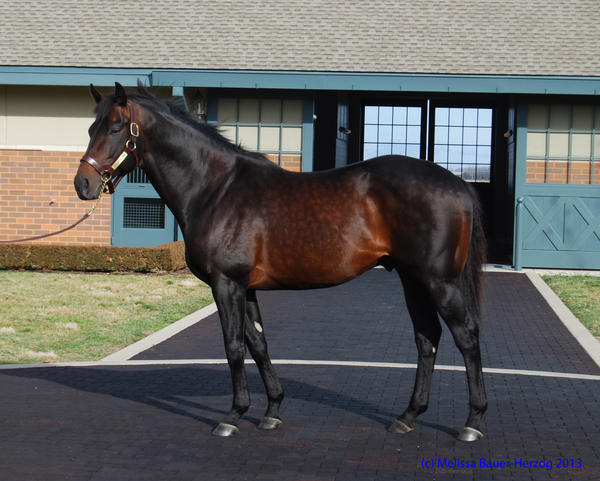 Bernardini in 2013
Since 1999, only A.P. Indy has sired both a Kentucky Oaks winner and a Kentucky Oaks winner's dam. A.P. Indy, Medaglia d'Oro and Proud Citizen are the only three stallions to sire more than one Kentucky Oaks winner in that time frame. This year Medaglia d'Oro can join A.P. Indy as both the sire and damsire of Oaks winners if Rachel's Valentina wins, as can A.P. Indy's half-brother Summer Squall (Storm Bird) if Lewis Bay (Bernardini) wins. Tapit is the only one who can join the two-time winner list this year if one of his two entries wins the race.
No broodmare sire in the above time frame has had more than one winner in the race. None of those broodmare sires have a runner in the Kentucky Oaks this year.