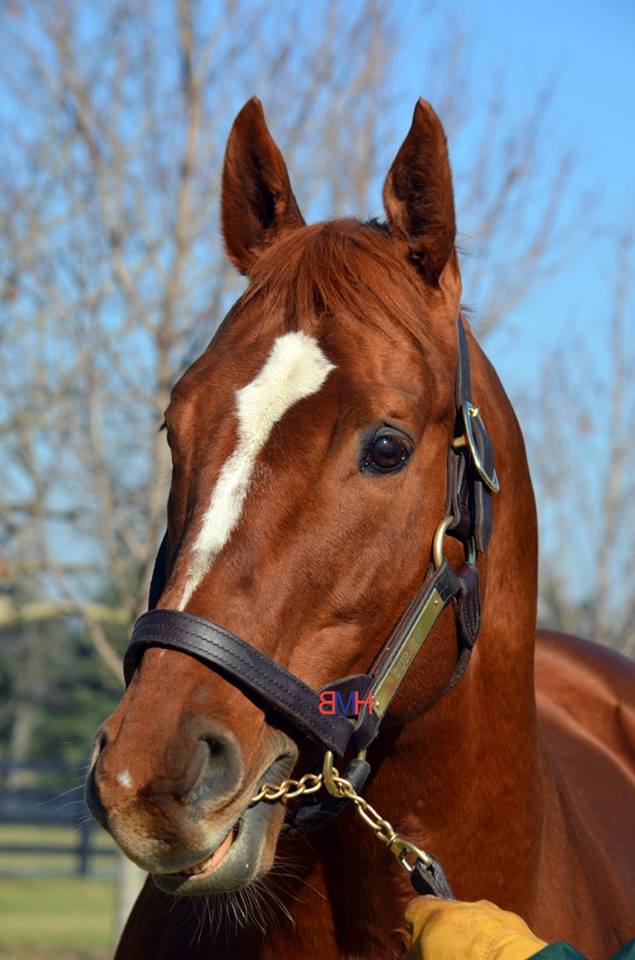 Editor's note: This blog was first run May 10, 2016 but was modified on June 10, 2017 when Irish War Cry finished second in the Belmont Stakes.
A racehorse who didn't debut until February of his 3-year-old year, Curlin caught the attention of the racing world after winning two of Arkansas' Kentucky Derby preps in 2007. But it was the Triple Crown that really solidified his place as a future superstar.
Going into the Grade 1 Kentucky Derby Presented by Yum! Brands with only three races under his belt, the Smart Strike son held his own when finishing third in the 20 horse field. In a bit of a twist, the Derby seemed to complete the seasoning he needed as he won a hard-fought Grade 1 Preakness Stakes over Kentucky Derby winner Street Sense (Street Cry) by a head. Perhaps the most famous of his three Triple Crown races is the one he lost by a head to the filly Rags to Riches in the Grade 1 Belmont Stakes.
Curlin ended his career in November of the following year after a fourth place finish in the Grade 1 Breeders' Cup Classic. In his two years of racing, he won 11 of 16 career starts for an at-the-time all-time leading North America money earner record of $10,501,800 in purses (topped in 2016 by California Chrome then again in 2017 by Arrogate) helped by victories in the 2007 Grade 1 Breeders' Cup Classic Powered by Dodge and the Group 1 Emirates Airline Dubai World Cup. In all, Curlin won seven Grade 1s in his career and hit the board in four others, including a turf race.
Curlin retired to Lane's End Farm for the 2009 breeding season where he stood for $75,000 and bred 131 mares for 104 live foals. He had a rough season with his 2-year-old numbers with only 47 starters for 15 winners and no stakes winners, although two hit the board in stakes.
It wasn't until June of that crop's 3-year-old year that Curlin got his first graded stakes winner and it was a big victory. Palace Malice, who had been on the Triple Crown trail all spring broke through in a big way when he came back five weeks after spooking in the Grade 1 Kentucky Derby Presented by Yum! Brands and setting the pace to finish 12th, was a bit calmer in the Grade 1 Belmont Stakes when he sat off the pace. But the colt took command late in the race and gave his sire his first graded stakes and classic victory all in one swoop.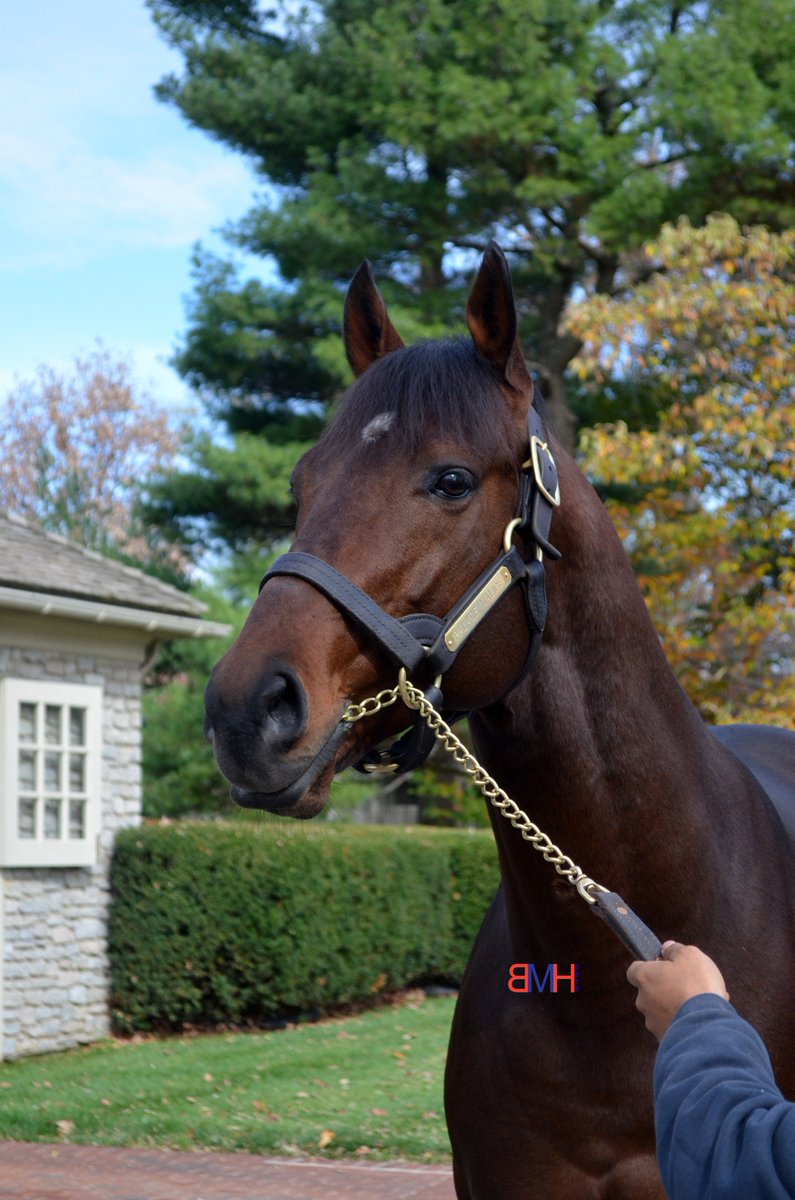 Palace Malice
Palace Malice also won the Grade 2 Jim Dandy that year but seemed to be snake bitten the rest of the year, running well in other races and even placing second in the Grade 1 Jockey Club Gold Cup Invitational but not returning to the winner's circle. However, in 2014 Palace Malice ran away with the older horse division early in the year, reeling off four straight victories. The last of those victories put him in a rare group when he became the ninth horse, and first since 1982, to complete the Belmont Stakes/Metropolitan Handicap double.
While Palace Malice was storming through the older horse division, Curlin's next classic hope was on the 2014 Triple Crown trail.
A third-place finisher in the 2013 Grade 1 Foxwoods Champagne Stakes, Ride On Curlin followed his sire's path down the trail as a 3-year-old at Oaklawn. While he didn't win any of the Oaklawn preps, he hit the board in all three graded stakes and qualified for the Kentucky Derby. Finishing seventh in that race, he returned two weeks later in the Grade 1 Preakness Stakes where he was second to California Chrome (Lucky Pulpit) with the rest of the field 6 ½ lengths behind them.
In July, Curlin got his second classic placing of the year with the gelding Lynx. Bred in Canada, the bay gelding was the runner-up to Coltimus Prime (Milwaukee Brew) in the Prince of Wales Stakes. The successes of Palace Malice and Curlin's classic placers plus those of 11 other stakes winners helped Curlin top the Third-Crop Sire list by over $2.5-million with 100 winners from 182 runners but 2015 promised to be even better.
Stepping into the deep waters of the General Sires list without an "x crop" list to back him up, Curlin excelled with his 216 runners. With three crops 3-years and older, Curlin had 113 runners and 11 stakes winners to place him sixth on the list at the end of the year.
The headliner of all his winners was champion 3-year-old filly and Grade 1 Santa Anita Oaks winner Stellar Wind, who finished second in the Grade 1 Longines Breeders' Cup Distaff at the end of the year.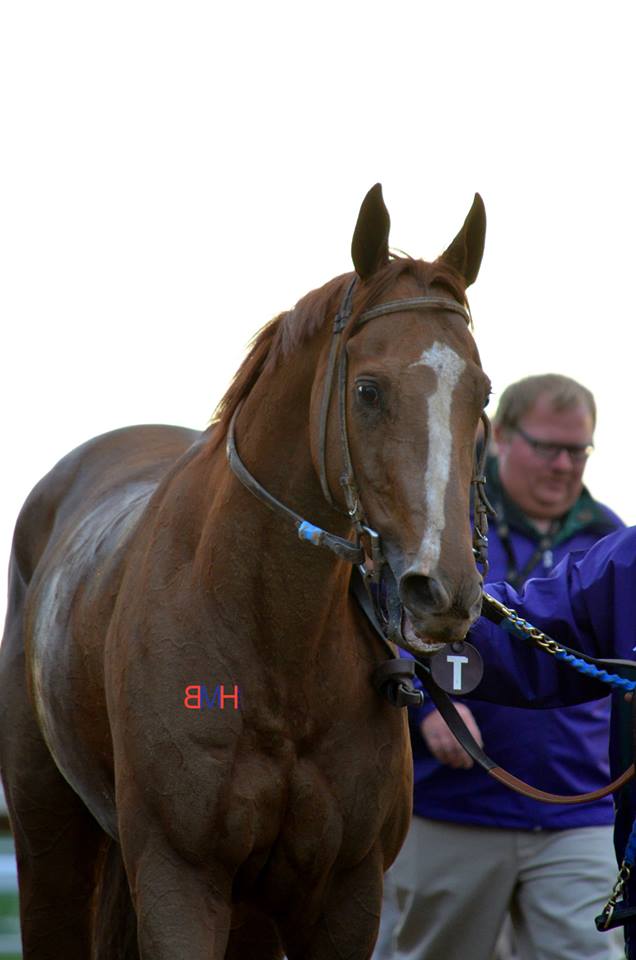 Stellar Wind
The most famous of his winners was Grade 1 Travers Stakes winner Keen Ice, who defeated American Pharoah in that race. But before he was know as the Travers winner, he had put Curlin's name back in the Belmont Stakes history books when he finished third in the race to give Curlin his third classic-placed horse in as many crops.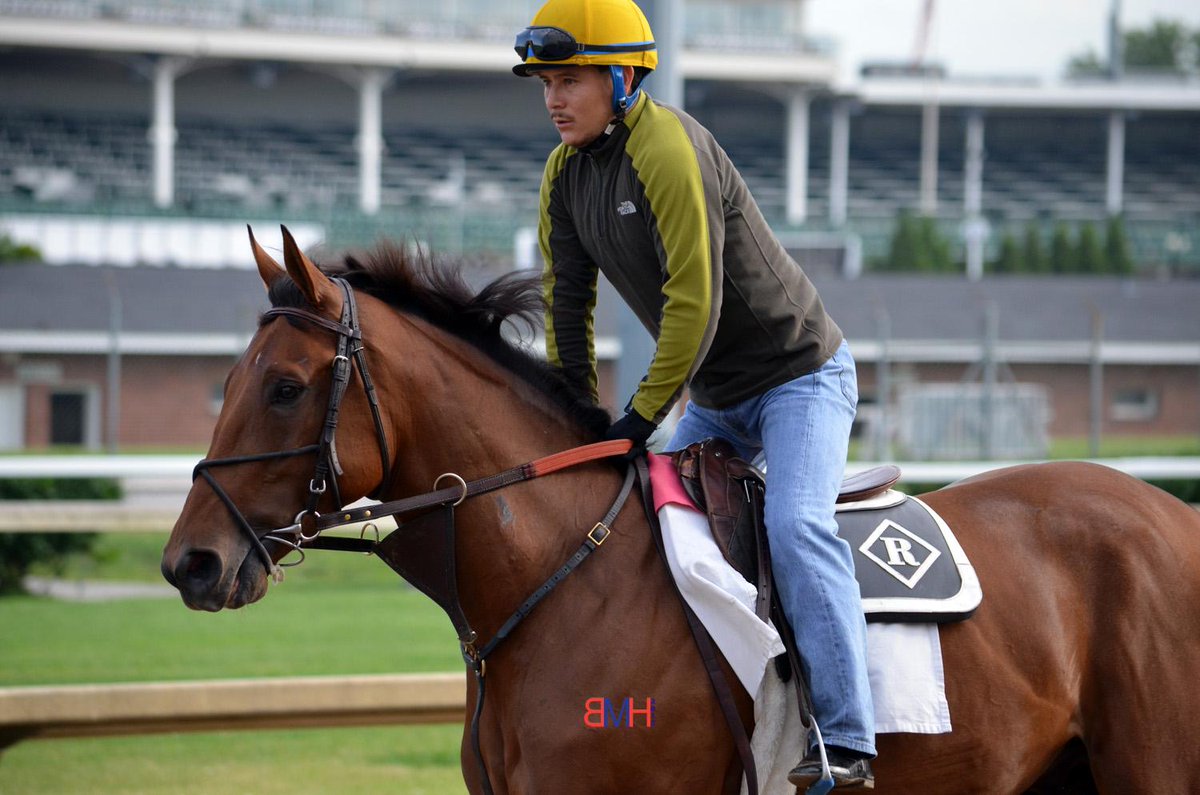 Keen Ice
Other graded stakes winners in 2015 for the horse included two-time Grade 1 winner Curalina, who helped Curlin with another piece of history by giving him both the second and third place finishers in the Breeders' Cup Distaff, turf Grade 2 winner Diversy Harbor and Kentucky Derby prep grade 3 winner Ocean Knight.
But the winner who may have been most important to Curlin's career from a commercial standpoint was Exaggerator. Curlin's runners had won on dirt and turf but he hadn't had a juvenile graded stakes winner in his first three crops, a mark against him in a market that likes early runners. Making his third start in the August Grade 2 Saratoga Special, Exaggerator closed from last to win by three-quarters of a length. From there, he finished second to Brody's Cause (Giant's Causeway) in the Grade 1 Claiborne Breeders' Futurity and fourth in the Grade 1 Sentient Jet Breeders' Cup Juvenile before ending his season with a win in the Grade 3 $1-million Delta Downs Jackpot.
Early 2016 has been a success for Curlin as well. Exaggerator destroyed the Grade 1 Santa Anita Derby field in early April to give Curlin a legitimate Kentucky Derby hope. While Exaggerator wasn't able to win the Kentucky Derby for Curlin, he did give his sire a Triple Crown of sorts with Curlin now having a runner hit the board in each leg of the Triple Crown.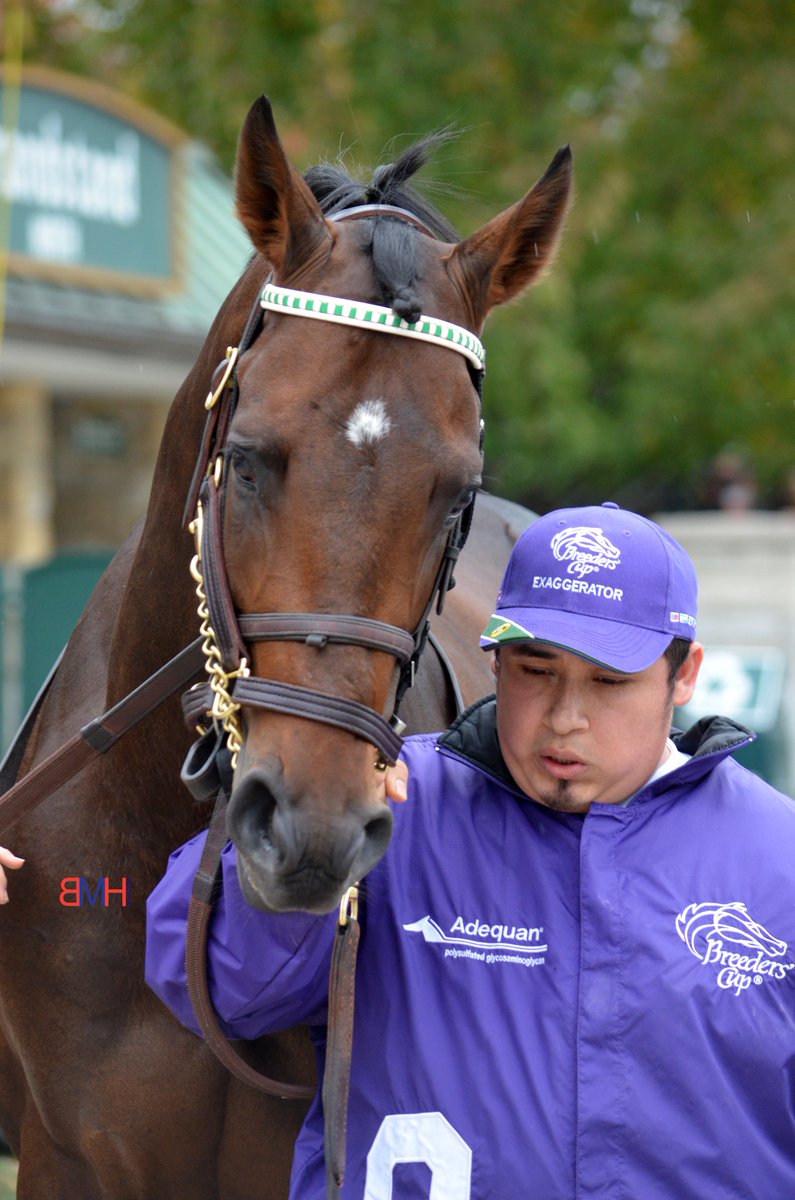 Exaggerator
While Curlin would have been excused for breaking his classic-placed streak with only 39 live foals in 2014 according to The Jockey Club, the streak is still alive. Irish War Cry had won both the 2017 Grade 2 Lambholm South Holy Bull Stakes and Grade 2 Wood Memorial Stakes presented by NYRA Bets on the Triple Crown trail and went into the Kentucky Derby as one of the favorites. The colt ran a disappointing race to finish 10th but came back five weeks later for the Belmont Stakes. It looked like Irish War Cry would give Curlin his third classic winner in five years until Tapwrit (Tapit) passed him in the stretch. The Graham Motion trainee still finished second to allow Curlin to keep his classic streak alive in what looked like it would be a quiet year for the stallion.
The numbers are looking up for Curlin again in his future crops with the runners in the second half of 2013 convincing mare owners to book to him again in 2014. He has 113 2-year-olds (none to yet make a start as of June 10), 131 yearlings and bred 141 mares last year.
Looking at Curlin's top 10 earners, it's no surprise to see a few of them inbred to either Northern Dancer or Mr. Prospector or in some cases both but there are a few other interesting crosses. Two of Curlin's top 10 earners
have two crosses of Northern Dancer grandson Deputy Minister in the third and fourth generations. He also has four horses in-bred to Mr. Prospector's sire Raise a Native with only one or even none of those crosses coming through his influential son.
Curlin was relocated to Hill 'n' Dale before the 2016 breeding season and is one of the more expensive stallions in the United States with a $150,000 fee.