Keeping It In the Family: Sirelines in the 2016 Irish 1,000 Guineas
Fast Company (Overbury Stud photo)
The 2016 Irish 1,000 Guineas seems to be a sort of ushering in of a new era of stallions with four of the nine stallions' first European foals being aged six or younger.
While there are no first crop stallions represented in this year's race, second-crop sire Fast Company is looking for a victory in this race after he found moderate success here last year when his daughter Devonshire finished third behind Teofilo's Pleascach. Fast Company's sire Danehill Dancer was given one win in this race with his daughter Again in 2009, the same year his son Mastercraftsman won the Irish 2,000 Guineas.
In some ways it may be hard to believe that Galileo has the most racing aged crops any sire in the 1,000 Guineas but in other ways, his first crop being only 13 years old seems young with how much influence the stallion has had on the European Thoroughbred in that time. His success is on full display in this race with the stallion siring three of the entries here, including the full sister to the horse who gave him an Irish 2,000 Guineas victory last year.
As with this year's Irish 2,000 Guineas, Galileo also has a son with a runner here. This time it is his classic winning Sixties Icon, who is the sire of Czabo. Interestingly, this filly also leads back to the aforementioned Danehill Dancer with that stallion siring her dam. Sixties Icon's first foals of racing age are six years of age and the stallion is still searching for his first Group 1 success in this race.
Sixties Icon is joined by Dantime's Bushranger in that Group 1 regard with that stallion having a 1,000 Guineas runner in his third crop of 3-year-olds. Bushranger follows the old rule of stallions getting good runners after being sold abroad as his first stakes winner came just a few months after his sale to Turkey was announced. His daughter Now or Never added to his stakes total just 12 days ago when she easily won the Group 3 Derrinstown Stud 1,000 Guineas Trial after being so close to stakes success twice before. Now Or Never is out of a Pivotal mare, making that stallion one of four here to have both sons and daughters with runners in this race.
One stallion who should be noted is Fastnet Rock, who has been a mainstay in Australia since his first foals hit the ground in 2006 but is newer to the northern hemisphere ranks, first shuttling to Ireland in 2010. The stallion has had a bit of an up and down path to glory in Europe, shuttling for a few years then stopping when he didn't have much success. But the stallion hit big in 2015 with Qualify winning the Group 1 Investec Oaks to lead a group of six group stakes winners on the year, prompting Coolmore to shuttle him again in 2016. Fastnet Rock has three entered in the 1,000 Guineas, including one of his group winners from last year.
Giant's Causeway
Shamardal looks like the heir apparent to his sire Giant's Causeway in Europe as both a sire and broodmare sire at a relatively young age. The 14-year-old Shamardal has 17 Group 1 winners and stands for a private fee but is still searching for his first Irish classic victory. In this edition of the Irish 1,000 Guineas, the stallion has two runners in the lightly raced Anamba and Cool Thunder. Shamardal also joins Galileo and Danehill as the only stallions in this field represented as both a sire and a broodmare sire with the stallions both having that distinction in both the Irish 1,000 and 2,000 Guineas this weekend.
Danehill Dancer is the only stallion who can stake a claim to siring both one of the runner's sires and another runner's dam with the recently pensioned stallion having two daughters produce runners here.
Danehill Dancer and others from the Danehill line have proven to cross exceptionally well with Galileo so it's no surprise that one of his daughters is the dam of 2-year-old champion and QUIPCO 1,000 Guineas winner Minding, who is looking for a Guineas double here. Another of his representatives follows the Galileo to Danehill way of thinking with Sixties Icon's daughter being out of a Danehill Dancer mare.
Thirteen years after his death, Danehill Dancer's sire Danehill is well represented in this race in multiple ways. The stallion of course has the two runners out of Danehill Dancer mares but he is also the broodmare sire of the Galileo filly Petty Perfect in addition to his son Redoubt's Choice producing the dam of Anamba. On the sire side, Danehill is the sire of Fastnet Rock who has three runners in here.
Mr. Prospector (WIkiMedia Commons/Pawneese photo)
Northern Dancer holds a pretty strong hand in this race but it does have a bit of a U.S. race feel to it with Mr. Prospector's sire line showing up in a few pedigrees. Mr. Prospector's great-grandson Dubawi is the only stallion with a runner who isn't from the Northern Dancer sireline but on the broodmare sire side, Mr. Prospector is one of four stallions with runners tracing back to him. He does hold the distinction of being the only stallion other than Northern Dancer to have more than one broodmare sire tracing back to him, however.
A little surprisingly, multiple sires and broodmares sires have had more than one winner in this race over the last 16 years. On Sunday, Galileo will be looking for his fourth win in the race (his last coming two years ago with Marvellous) to pull ahead of his sire Sadler's Wells, who also has three wins. Pivotal is the third sire with more than one victory in here at two winners and while he won't be represented by a daughter this weekend, his son Kyllachy and daughter Queenofthefaries both have runners.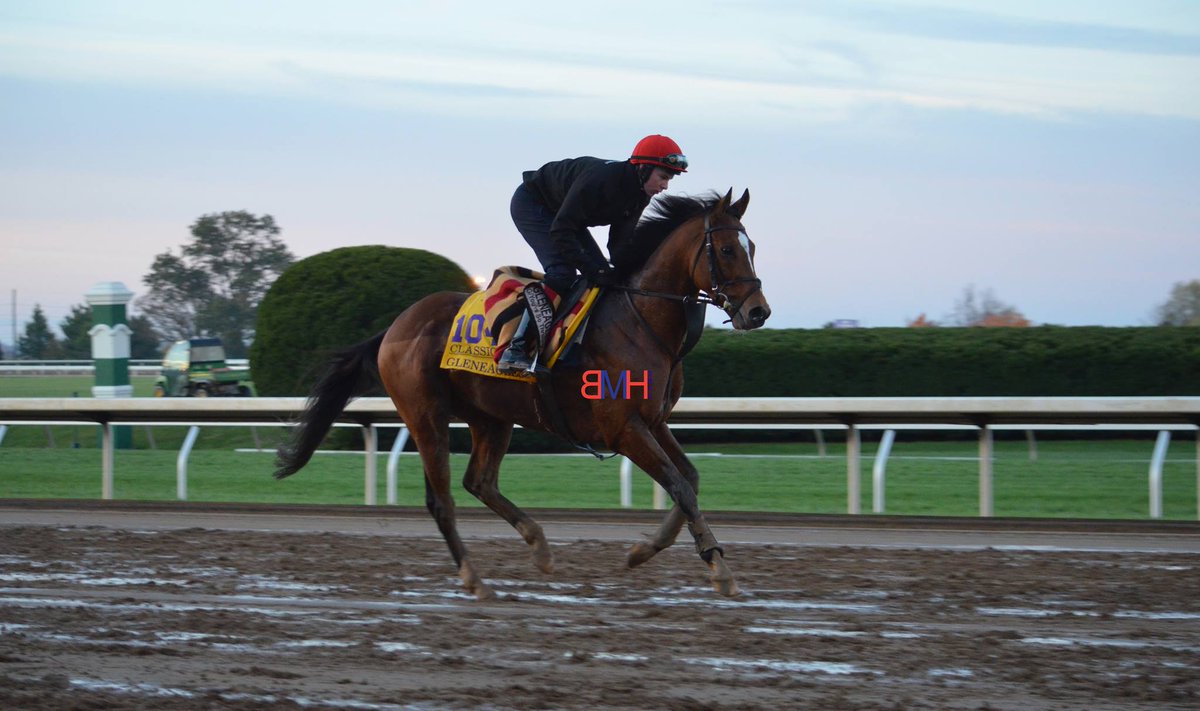 Gleneagles
Three broodmare sires have two wins in this race since 1999 but only Storm Cat can get another victory. Storm Cat's daughter You'resothrilling was the dam of Marvellous and last year's dual 2,000 Guineas winner Gleneagles. She is looking for a three-peat of sorts here with the ambitiously named Coolmore (Galileo), who is a Group 3 winner (beating fellow entry Anamba in that race) but hasn't hit the board since that win.
Both Galileo and Danehill Dancer have won this race as sires in the past 16 years and both have a chance to emulate Sadler's Wells as the only stallion to have wins as both a sire and broodmare sire in this race in this century.