When El Prado (Sadler's Wells) was imported to the United States after being purchased from Coolmore by Frank Stronach in the early 1990s, very few breeders were willing to give El Prado a shot.
"No one wanted a son of Sadler's Wells in America," Dermot Carty, who bought the horse for Stronach, told Blood-Horse when the stallion died. "Everyone saw him as just a grass horse, but now he's a broodmare sire, a sire of sires, and he's made history. It was a gamble … to buy a son of Sadler's Wells was a major move, but it paid off."
But over 20 years later, El Prado has made a major impact on the breed in North America.
El Prado started his breeding career at Airdrie Stud in Kentucky for Stronach, who didn't have a stallion operation at the time. Within a few years, Stronach's opened up Adena Springs stallion facility and El Prado became one of the cornerstones of the operation.

Video courtesy of Thoroughbred Horses in Kentucky
"He put us on the map," Carty told Daily Racing Form when the stallion died in 2009. "There's no ifs, ands, or buts about that. He moved his mares up right off the bat. It was a privilege to have him."
From 1997 on (the first year that The Jockey Club lists the number of mares bred on its website), El Prado bred around 100 mares a year with a high of 126 in 1999. That number dropped to 61 in 2009 with 18 foals born in that final crop.
While never having huge crops of foals, El Prado did well. He was the leading sire in 2002 and ranked second in 2003 and 2004 with top 10 rankings in 2005 and 2009. Among his top foals were champion Kitten's Joy, Breeders' Cup Mile winner Artie Schiller and multiple Grade 1 winners Medaglia d'Oro, Borrego and Winter Memories.
Artie Schiller
But racetracks weren't the only place El Prado foals shined with the stallion quickly turning into a sire-of-sires. In 2015, his sons Medaglia d'Oro and Kitten's Joy both produced U.S. champions in Songbird and Big Blue Kitten but this isn't the first year those stallions have been at the top of the sport.
Medaglia d'Oro was ranked fourth behind Tapit (Pulpit) in 2008 on the First-Crop Sire list and led the Second-Crop Sire list in 2009 in addition to finishing eighth on the General Sires list thanks in part to that year's Horse of the Year Rachel Alexandra. The following year, Medaglia d'Oro was again fourth on the Third-Crop Sires list while also ranked in the top 20 ahead of horses like Arch (Kris S.), Tiznow (Cee's Tizzy), City Zip (Carson City) and even his own sire on the General Sires list.
While making appearances in the top five on the top 2-year-old sires list, Medaglia d'Oro's specialty has definitely been Blood-Horse's General Sires list. The stallion was ranked in the top 10 in 2011 and 2014 and runner up in 2015 to Tapit.
Other than Rachel Alexandra, Medaglia d'Oro is the sire of 13 Grade or Group 1 winners including Kentucky Oaks winner Plum Pretty, multiple Grade 1 winner Marketing Mix, Australian champion Vancouver and Grade 1 winner Mshawish.
Medaglia d'Oro
The stallion also looks like he may pass on his sire's skill as a sire-of-sires. While his many young sires who have retired in the last three years have been well received by breeders, his son Warrior's Reward had 65 winners and four stakes winners last year with two crops on the track.
Kitten's Joy has been mostly a turf influence for his sire's line but has done very for himself in that realm.
A top five freshman sire, Kitten's Joy led the standings as a Third-Crop Sire in 2011 when Stephanie's Kitten won the Grade 2 Breeders' Cup Juvenile Fillies Turf, also giving him a top 10 spot on the General Sires list that year. While only being ranked 19th in 2012, Kitten's Joy had a breakout year in 2013 when he had six Grade 1 winners to lead all stallions by earnings and Grade 1 winners.
Kitten's Joy had his second Breeders' Cup winner in 2014 with Bobby's Kitten in the Grade 1 Turf Sprint and had two other Grade 1 winners that year to finish third on the list behind Tapit and Giant's Causeway (Storm Cat). Stephanie's Kitten gave him a third Breeders' Cup victory in 2015, helping him rank fourth on the General Sires list. Each of the past three years, Kitten's Joy has also been the highest ranked turf sire in North America. It is too early to tell how Kitten's Joy will be as a sire with each of his sons advertised in the Blood-Horse Stallion Register retiring in 2014 or later.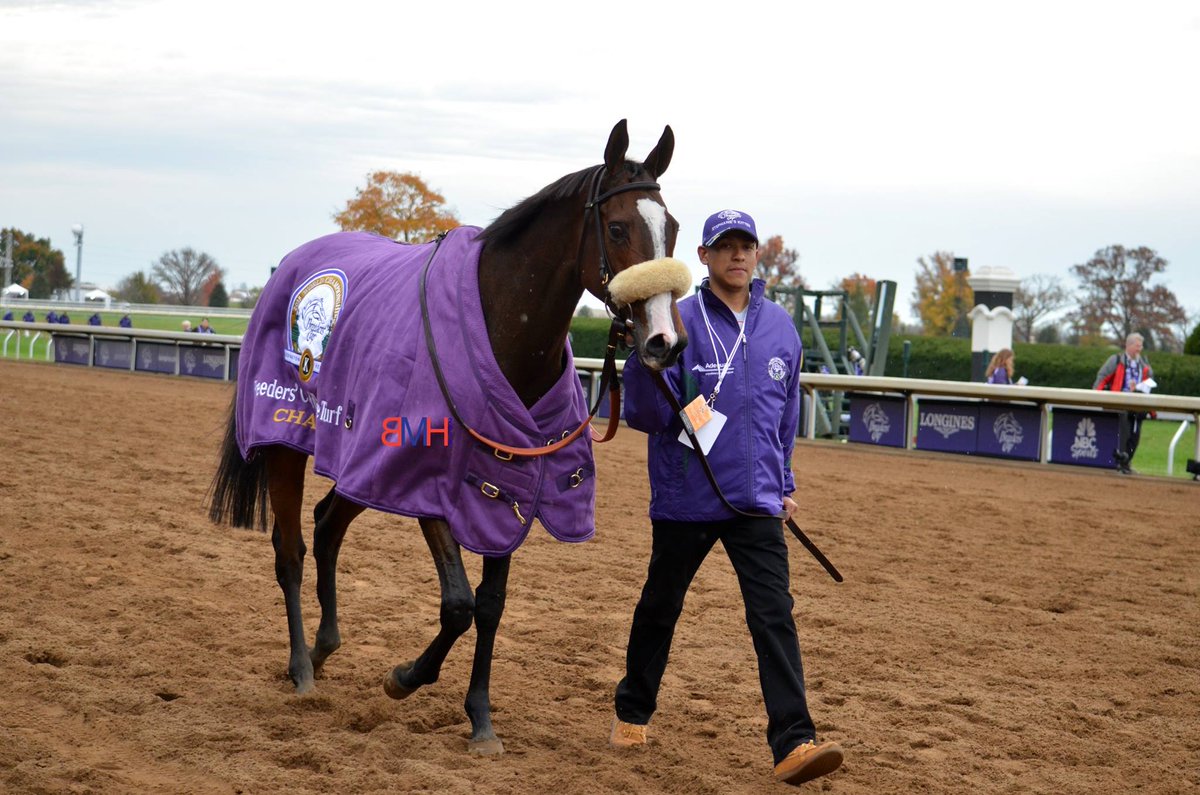 Stephanie's Kitten after her 2015 Breeders' Cup victory
While not consistently near the top of the rankings in North America like the two stallions above, El Prado's sons Artie Schiller and Fort Prado have been solid sires for the breed-to-race crowd.
Artie Schiller is the sire of six graded stakes winners in the northern hemisphere and six others in the southern hemisphere with 28 stakes winners overall in addition to 25 other stakes horses. His highest earner in the northern hemisphere is multiple Grade 2 winner Mr. Commons with Grade 1 winner We Miss Artie following close behind. Standing at a fee of $10,000, Artie Schiller's northern hemisphere runners have averaged $58,384 per starter.
Illinois Horse of the Year Fort Prado has one graded stakes winner and one stakes winner in addition to three other stakes horses from his three crops to race. His highest earner is the multiple stakes placed Prado U while his Grade 3 Regret Stakes winner Prado's Sweet Ride has provided him with the all-important graded stakes winner. Standing for $5,000, Fort Prado's average earnings per starter currently sit at $30,842 (as of Jan. 20), over six times his fee.
A younger stallion for his sire, Paddy O'Prado performed on both dirt and turf and had his first 2-year-olds run in 2015. His 15 winners were good enough to rank him seventh by winners and eighth by earnings. Paddy O'Prado looks to be El Prado's last Grade 1 winning son entering the breeding shed with El Prado's final crop turning six this year.
Paddy O'Prado
It isn't just El Prado's sons that are keeping the line alive with the stallion making his first appearance on the Leading Broodmare Sires list in 2010 when he ranked 88th with 110 winners and five stakes winners from 226 runners (a 49 percent win rate). The following year he rose to 66th with 112 winners and seven stakes winners from 250 runners.
In 2012, El Prado rose to 34th on the Broodmare Sires list when he was the damsire of Grade 1 Kentucky Oaks winner Believe You Can (Proud Citizen) in addition to five other stakes winners for over $6-million in earnings from just 168 dams. The following year saw him in the same position with Grade 1 Breeders' Cup Juvenile Turf winner Outstrip (Exceed and Excel) leading his eight stakes winners. A drop to 38th in 2014 was followed by a spot in the 42nd position in 2015. Overall, El Prado's daughters have produced 41 stakes winners from 1,431 foals as of the end of 2015 according to Stallion Register.
Believe You Can and her 2015 Tapit colt
Another notable landmark for the El Prado line happened in 2015 when his son Medaglia d'Oro made his first appearance on the broodmare sire listed. Ranked 145th, Medaglia d'Oro's daughters were responsible for 39 winners including six stakes winners led by Eclipse finalist Rock Fall. The ranking came with Medaglia d'Oro having only 74 runners as a broodmare sire in 2015.
While El Prado's stud fee started at $7,500, the stallion commanded a fee of $75,000 in his final year at stud. There's little doubt that looking back now, that introductory fee was one of the best deals in racing with the changes El Prado has made and continues to make in racing today.