North America's Champion Second-Crop Sire: Munnings
Munnings
When Coolmore's Demi O'Byrne paid $1.7-million for Munnings as an early 2-year-old, expectation were high for the chestnut son of Speightstown. After winning three graded stakes races and finishing on the board in six others, Munnings retired to Coolmore's Ashford Stud for $12,500 (approx. €11,523/£8,792) in 2011. That crop produced 109 live foals with 53 of those making it to the track as 2-year-olds.
Twenty-seven of those first 2-year-olds went to the winner's circle with three stakes winners and one graded stakes winner in 2014, allowing Munnings to finish fourth by earnings behind Quality Road (Elusive Quality) on the Leading First-Crop Sires list. Munnings also finished second behind fellow Ashford Stud Lookin at Lucky (Smart Strike) by winners and stakes winners (Super Saver (Maria's Mon) tied with Lookin at Lucky at the top of the stakes winners list).
But with 108 runners representing the stallion in 2015, the odds swung in his favor.
Munnings had 32 2-year-olds join his 3-year-olds on the track last year with 47 percent of that that generation making it to the winner's circle. His 2-year-olds were led by the Oklahoma-bred gelding Bring It On Dude, who won two stakes races at Remington Park with Never Gone South and Barkley also giving Munnings 2-year-old stakes wins.
Munnings was ranked 27th by 2-year-old winners and 40th by 2-year-old earnings in 2015 but his 2-year-old stakes horses (horses who hit the board in stakes races) helped the stallion tie for ninth in the category.
Showing that his foals continue to perform after their 2-year-old season, Munnings had nine 3-year-old stakes winners in 2015.
Three of those were graded stakes winners led by multiple graded stakes winner and Eclipse finalist I'm a Chatterbox whose biggest win of the year came in the Grade 1 Cotillion Stakes in the middle of September. Another Munnings who won multiple graded stakes was Om, winning three different Grade 2 events in California. Om also had the distinction in 2014 of winning American Pharoah's debut when breaking his own maiden. Munnings' third graded stakes winner was the filly Ben's Duchess who upset a field that included Taris (Flatter) in the Grade 3 L.A. Woman Stakes.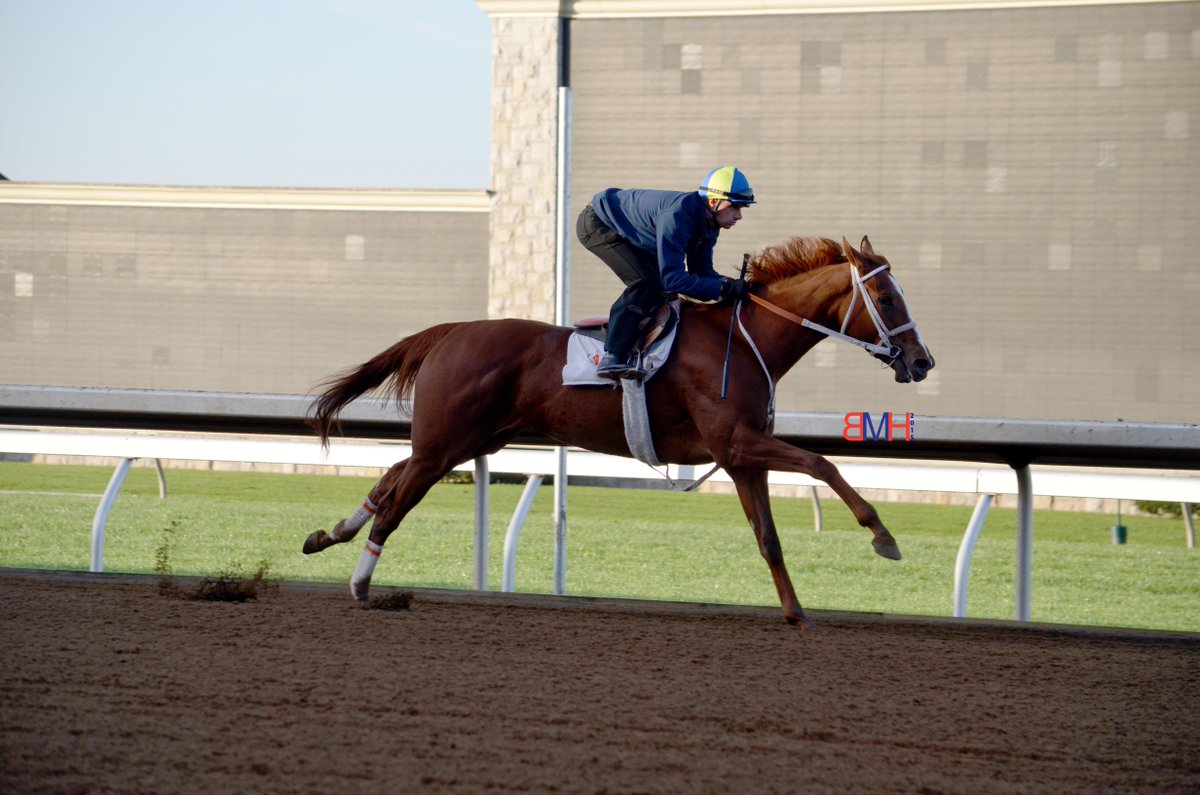 I'm a Chatterbox
Overall last year, Munnings made a clean sweep of the Second-Crop Sires list on Blood-Horse's Stallion Register, leading every category but the amount of runners he had on the track. All of the stallion's second-crop runners saw 64 percent winners to runners and 16 percent stakes winners to race winners. Those percentages put him above the highly regarded second-crop sire Super Saver (Maria's Mon) and top five general sires Tapit (Pulpit), Pioneerof the Nile (Empire Maker), Kitten's Joy (El Prado) and Candy Ride (Ride The Rails).
Munnings is off to a fast start in 2016 with 32 horses already making at least one start and two winning at the stakes level with one other hitting the board in a stakes race as of Jan. 20. Not surprisingly, all of this year's stakes winners and stakes placed horses have been at sprint distances but he has proven that his foals can go longer with I'm a Chatterbox winning at 1 1/16 miles and finishing second in a 1 ¼ mile Grade 1 event last year. Om is another example of Munnings' offspring being able to go farther than sprint distances, winning a 1 1/8 mile Grade 2.
While Munnings never had his big Grade 1 victory, he did place in six Grade 1 events from six furlongs to 1 1/8 miles with the chestnut racing past seven furlongs just four times in his 14 start career.
Munnings sire Speightstown is known more as a sprint sire but his son Force the Pass won a Grade 1 going 1 ¼ miles last year with Speightstown having other Grade 1 victors from six furlongs to 1 ¼ miles.
Speightstown himself was a sprinter, winning the Grade 1 Breeders' Cup Sprint in 2004 and being named champion sprinter but his sire Gone West (Mr. Prospector) also produced routers including 2000 Grade 1 Belmont Stakes winner Commendable and 2003 Grade 1 Breeders' Cup Turf winner Johar. So it isn't surprising that Speightstown is a versatile sire and looks to be passing that to Munnings.
Speightstown
On his dam's side, Munnings is out of the Holy Bull mare La Comete. The mare was never raced but Holy Bull adds another dose of speed and stamina with a 2-year-old Grade 1 win at seven furlongs and a Grade 1 Travers win at 1 ¼ miles (with many other Grade 1 wins in between).
La Comete's dam La Gueriere (Lord at War) made 20 starts over three years and won two graded stakes, including the 1991 Grade 1 Queen Elizabeth II Challenge Cup Stakes over 1 1/8 miles on the turf. She is also the dam of graded stakes winners Lasting Approval (With Approval) and Icon Project (Empire Maker) in addition to two other stakes placed horses.
Looking back one more generation you find Secretariat's daughter Lady Winborne who was stakes placed as a racehorse. In addition to producing La Gueriere, the mare is the dam of the Grade 1 winning router Al Mamoon (Believe It) and graded stakes winning router Lost Soldier (Danzig) in addition to Australia's 1995 top rated 3-year-old from 11 to 14 furlongs Born Wild (Wild Again).
In addition to La Gueriere's branch of the family, Land Winborne's daughters produced Grade 1 winner Honor In War (Lord At War) and Master Command (A.P. Indy) among others.
Master Command winning the 2007 New Orleans Handicap
Looking at his family, it makes more sense that Munnings was versatile enough to win at sprint distances while still placing in Grade 1 races over a route of ground. While early indications are that Munnings will continue to pass along the versatility multiple generations of his sire line have shown, it remains to be seen if he will be able to pass on enough stamina for one of his racehorses to add a Kentucky Derby or Breeders' Cup Classic win to his resume.
Like many stallions, many of the damsires of Munnings' stakes horses trace back to Northern Dancer (he has Northern Dancer in the fifth generation) and Mr. Prospector (in his third generation).
However, he seems to be having a lot of luck with the Sadler's Wells branch of Northern Dancer's line with stakes winners out of dams by Borrego, Medaglia d'Oro, and Perfect Soul. Sadler's Wells himself is also found as the damsire of the stakes placed Zia. Not letting Sadler's Wells have all the glory, Storm Cat is also well represented with his sons Tabasco Cat and Freud on the list of broodmare sires. Interestingly, I'm a Chatterbox is out of a Lost Soldier mare, giving her a 4 x 3 cross to Lady Winborne.
Standing for $10,000 (approx. €9,220/£7,036) in 2015 and attracting 196 mares, Munnings' fee has been raised to $25,000 (approx. €23,052/£17,692) for 2016.