Observations From the First Week of Keeneland September
Saturday evening, the first two Books of Keeneland's September Yearling sale wrapped up after a week that included a history making offering at the end of Book 1 when Beholder's half-brother brought $3-million, the highest price at the sale since 2010. With a mixed bag of numbers in both books, the sale had both buyers and consignors on their toes.
But outside the numbers, there were also a number of interesting things going on over the past week. Read on to find out which sires hit it big and which buyers made big splashes during the first five sessions of the sale.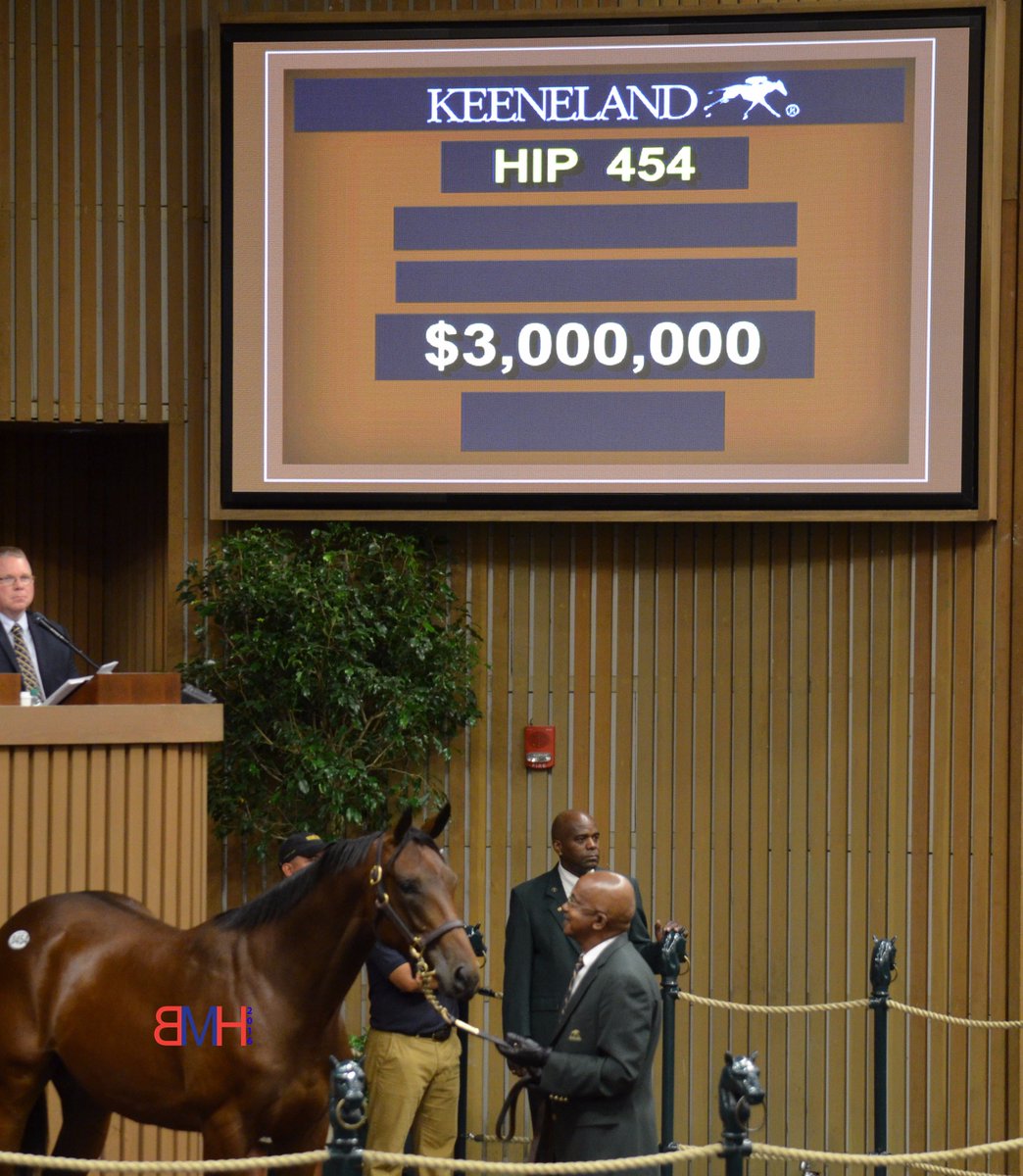 Scat Daddy – When Scat Daddy (Johannesburg) died suddenly in December, it was a major loss to the industry. Leaving behind eight crops, Scat Daddy had hit his best stride in the last few years and has the two best 2-year-olds in Europe this year with Caravaggio and Lady Aurelia in addition to Grade 1 U.S. runners like Dacita and Harmonize. That success made Scat Daddy a popular sire at Keeneland September this year with the stallion averaging $288,256 from his 43 sold in the first two books of the sale to put him second on the leading sire chart behind only Tapit. The stallion is also the sire of the sales topper (unless something drastically unexpected happens) as the sire of Beholder's half-brother who sold for $3-million. If that $3-million is removed from his gross total of $12,395,000, Scat Daddy is still in the top five sires, ahead of stallions such as Speightstown (Gone West), Uncle Mo (Indian Charlie) and Curlin (Smart Strike).
Established Sires – Of the top 20 sires by gross totals through the first two books, only Uncle Mo and Orb (Malibu Moon) were sires who had less than four crops of racing age. Uncle Mo's 25 to sell averaged $283,200 with his most expensive being a $750,000 purchase bought on the last day of the sale by Lane's End. Orb's first yearlings seemed to be a fairly big hit with buyers, the stallion had a higher gross total than stallions such as Into Mischief (Harlan's Holiday), Giant's Causeway (Storm Cat) and Smart Strike (Mr. Prospector). His most expensive yearling of the first week of the sale was a $450,000 colt out of Grade 3 winner Just Louise (Five Star Day).
Lane's End – The farm was on the prowl for stallion prospects during the first two books of Keeneland September, buying nine horses under its name for a total of $5.435-million with all nine being colts. The farm's most expensive purchase was the $750,000 Uncle Mo talked about above while its cheapest was a $425,000 Orb colt. Some notable horses it added to its stable are two colts out of half-sisters to Acoma (Empire Maker) and Arch (Kris S), a grandson of Serena's Song (Rahy) and a grandson of Azeri (Jade Hunter).
War Front's most expensive offering
War Front Fever – While the Coolmore partners cut back on buying War Fronts this year now that they are supporting the stallion with their own mares, the stallion was still in high demand. Shadwell Farm has jumped into the War Front craze with both feet, buying two colts for over $1-million each while John Ferguson was also in on the purchasing when buying two fillies during the sale, presumably for Darley. Overall, War Front had 19 yearlings sell for a total of $12.045-million and an average of $633,947. Unfortunately for his averages and overall gross, a clerical error caused him to have a $1.9-million RNA on a colt out of Horse of the Year Havre de Grace. If that colt would have sold, he would have been the No. 2 sire ahead of Scat Daddy.
Tapit – There's not much more to say about Tapit these days other than he's still the King of North America. He didn't top the sale this year but of the nine $1-million+ horses, he had
four of them and eight of the top 25 most expensive horses of the first two books.
Stud Fees – The average advertised stud fees in 2014 for the 10 stallions who sired the top 25 most expensive yearlings in the first two books was $83,258.50. Interestingly, this crop was bred when both Tapit and War Front were both $150,000. The most expensive stallion at that time was Frankel at $200,085 (with the exchange rate when his fee was announced in late 2013), whose most expensive yearling sold for $900,000 this week. The cheapest at that time was Pioneerof the Nile, who stood for $20,000. Pioneerof the Nile's most expensive offering this week was a $925,000 half-brother to a Grade 1 winner.
Into Mischief – Into Mischief shined on the second day of Book 2 when it seemed like he couldn't do anything wrong. Of his 13 to sell, nine sold for over $100,000 with the stallion averaging $176,154, just $1,154 higher than his median price. Into Mischief stood for $20,000 when his yearlings were conceived. The stallion had taken a large leap to that fee in 2014 after Goldencents won his first Breeders' Cup Dirt Mile. Into Mischief had previously stood for $7,500 in 2013.
Frankel topped all foreign sires with this filly
Foreign Sires – It was a little rough this year if you were an international sire with horses going through the ring at Keeneland. Galileo, who had the most offerings with seven, averaged $393,750 for the four to sell with a farther three RNAing and his top selling lots being two $500,000 horses. Frankel topped all foreign sires with a $900,000 filly but he found mixed results when his colt, a half-brother to multiple group stakes winner Hartnell, RNAed after bringing a final bid of $325,000. The least expensive foreign sire offering was Teofilo's filly selling for $7,000. The late Japanese sire Stay Gold's lone offering brought a final bid of $220,000 but it wasn't enough to change hands with the colt RNAing at the price.
Street Cry – In his final appearance as a sire at the Keeneland September sale, Street Cry wasn't a $1-million sire but the stallion was well received with the 16th highest gross total of any stallion during the first two books and the 15th highest average of the stallions with five or more hips to sell. The stallion's most expensive offering was a $500,000 colt out of Grade 3 winner Elusive Lady with 16 of his 20 to sell bringing six figures with a median price of $190,000. The stallion also had a $525,000 RNA out of the Pomeroy half-sister Acquileia (Arch) on the first day of the sale with one other six-figure RNA the following day.