Digging into the Data: Chasing History at the Breeders' Cup
The entries are drawn and all the Breeders' Cup horses are on the grounds for the 2016 Breeders' Cup at Santa Anita, taking place on Nov. 4 and 5. But there's more to the racing than just the racehorses and owners trying to add a prestigious Breeders' Cup title to their resumes. Keep reading to find out nine facts, including a few about those chasing history, about the sires and dams represented at this year's event
By the Numbers – Ninty-eight stallions sired the 167 main body entrants in the 13 races with 112 broodmare sires also represented. Of the 98 sires at the races, there are 13 father/son pairs with Distorted Humor, Tiznow and Pulpit all having multiple sons with entries while also having their own runners. Stallions from six U.S. states and 11 countries have runners in the Breeders' Cup races from Japan to France.
Awesome Again
Breeders' Cup Winners – Eleven Breeders' Cup winners are among the sires with runners this year. Of those 11, Ghostzapper, Unbridled's Song and English Channel have multiple runners. The father and son duo of Awesome Again and Ghostzapper are trying to make history in the Breeders' Cup Classic by adding a third generation to their Classic win streak with Shaman Ghost. Awesome Again and Ghostzapper are also two of 12 Breeders' Cup winners whose daughters have produced runners this year, Unbridled's Song leads the charge in that category with four runners as a broodmare sire.
Siblings as Sires– There are multiple pairs of siblings and half-siblings taking part this year in the Breeders' Cup as sires, runners and jockeys/trainers. Full brothers Congrats and Flatter both have two runners each in the Breeders' Cup and interestingly their runners are all in the same races (J.S. Choice [Congrats] and Favorable Outcome [Flatter] in the Juvenile Turf and Haveyougoneaway [Congrats] and Paola Queen [Flatter] in the Filly and Mare Sprint). As is normal for Breeders' Cups, Baby Zip is represented by her half-brother sons City Zip and Ghostzapper with three runners each. City Zip is looking to keep his Breeders' Cup streak alive with the stallion having winners in at least one Breeders' Cup the last two years while Ghostzapper is looking for his second Breeders' Cup win as a sire after Judy the Beauty's 2014 Filly and Mare Sprint win at this same track.
Siblings as Runners – The most famous equine pair of siblings running in Breeders' Cup races this year are Tepin and Vyjack, who are making their dam Life Happened the 18th mare to have two Breeders' Cup runners in the same year. Tepin looks to defend last year's victory in the Mile while Vyjack hopes to win on his first appearance at the Breeders' Cup. If both horses win, Life Happened will be the only mare ever to have two Breeders' Cup winners in the same year while she'll join three others who have produced multiple Breeders' Cup winners in their careers. Life Happened is joined by Miss Hot Salsa and Belle Watling in the quest to end the drought of a mare not producing two winners in the same year. Miss Hot Salsa's 6-year-old son Mongolian Saturday is returning to the Breeders' Cup Turf Sprint after his victory in the race at Keeneland last year while his 2-year-old Scat Daddy half-sister is entered in the Breeders' Cup Juvenile Fillies. Belle Watling's daughter Land Over Sea is running in the Breeders' Cup Distaff after finishing seventh in the Juvenile Fillies last year while her son War Story is running in the Classic after finishing eighth in the Dirt Mile last year. Both Life Happened and Miss Hot Salsa have a 100 percent strike rate at the Breeders' Cup so far with their only runner to-date also winning the race.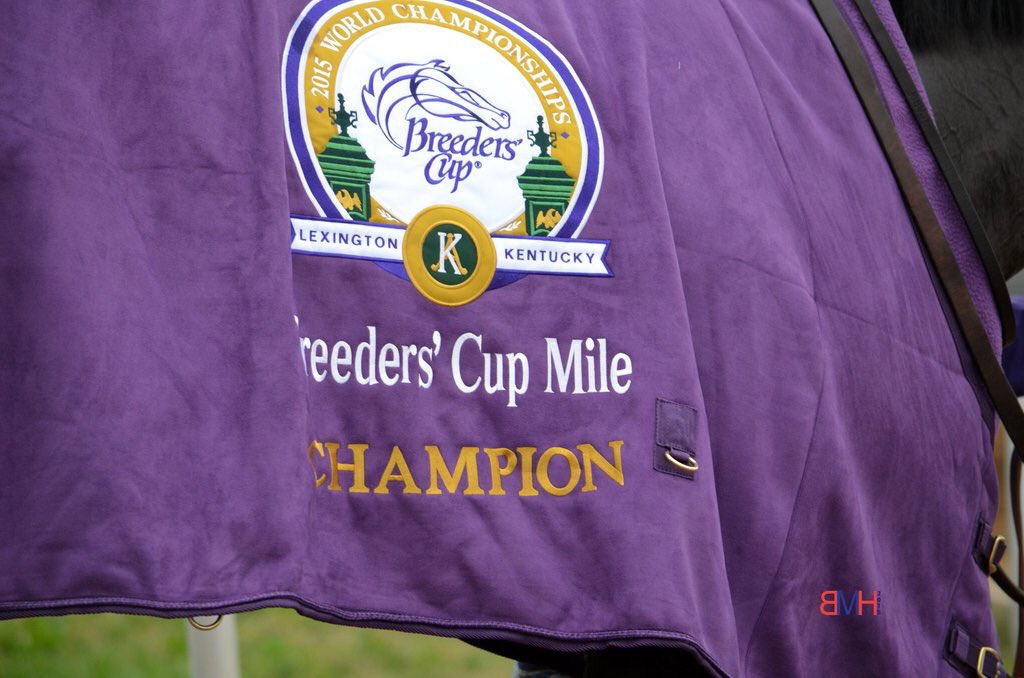 Family Affair – Friday's Breeders' Cup Juvenile Fillies Turf is truly a family affair for the O'Brien family. While Aidan O'Brien, as usual, holds a top hand in the race with two runners his son Joseph is making his Breeders' Cup debut as a trainer with Intricately with brother Donnacha aboard. Adding even more family connections to the mix, Intricately was bred by Joseph and Donnacha's parents. The O'Briens will go into the history books for a few different things in Intricately wins on Friday: Joseph will join Freddy Head as the only two jockeys to also train a Breeders' Cup winner, Joseph and Aidan will become only the second father/son trainer duo to train a Breeders' Cup winner along with Wally and Craig Dollase, Joseph and Donnacha will become only the second brother trainer/jockey team along with the Desormeauxs and Texas Red in 2014 to win a Breeders' Cup race together, and Joseph will become the youngest trainer to win a Breeders' Cup race, taking the title from Craig Dollase. Joseph already holds the record for youngest jockey to win a Breeders' Cup race, that coming when he won the 2011 Breeders' Cup Turf on St. Nicholas Abbey but that record will be broken as well if the filly wins with Donnacha younger than his brother was during the 2011 race.
Tapit
Tapit's Record – As per usual over the last few years, Tapit is chasing a North America earnings record going in to the last few months of the year. As of the Wednesday morning before Breeders' Cup, Tapit was $749,465 behind his 2015 record. While not only Breeders' Cup races count toward the record, they provide the biggest purses at this point in the year and the stallion has five entries in five different Breeders' Cup races. The combined total amount of those races is $12-million with the winner of each race getting 55 percent of the purse.
Galileo – After conquering Europe's top races this year, Galileo is looking to take over the Breeders' Cup this week. Galileo is easily breaking the record of the number of starters for one sire in a single Breeders' Cup with nine horses running this year, two more than Mr. Prospector had in 1988 to lead the list. Of those runners, he has four of the 12 runners in the Breeders' Cup Turf for 33.3 percent of the race's entries with two sharing the second choice odds on the morning line. According to Thoroughbred Daily News sire list, Galileo already has worldwide earnings of $26,507,980 this year.
Sires as Damsires – Fourteen stallions can be seen in the entries as both the sire and damsire of (different) Breeders' Cup entries. Lemon Drop Kid leads all the stallions with the number of runners out of his daughters with five while Galileo leads all stallions with the number of runners he's sired with nine.
Looking for a Record – Sadler's Wells alone holds the record for the most wins for a sire with six but he has a chance of being joined or passed in that position at this Breeders' Cup. Of those stallions with four or more winners in previous Breeders' Cups, Unbridled's Song (4 winners) has three runners and Tapit (5 winners) has five entries this weekend.