Last fall All Equine All the Time took a look at Unbridled's Song as his last yearlings went through the ring, today I dig a little deeper into the late stallion's impact as his final 2-year-olds get ready to go through the ring in the first major 2-year-old sale of the year.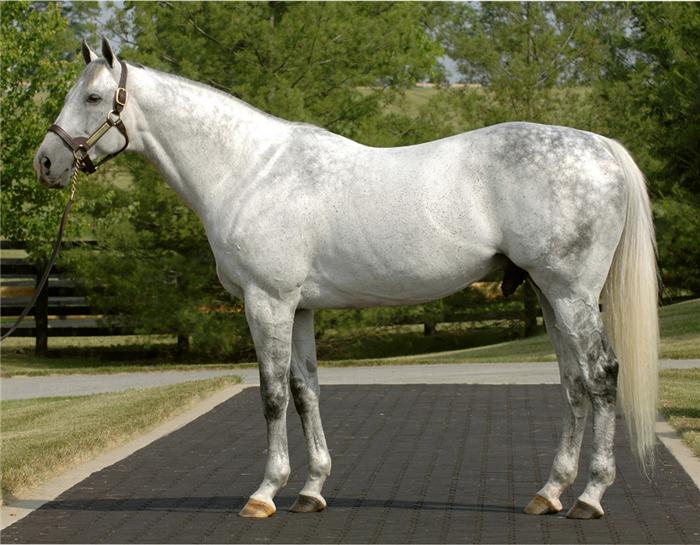 Taylor Made photo
Buyers hoping to get their hands on 2-year-old from the final crop of Unbridled's Song (Unbridled) will get their first chance of the year on Wednesday when four of his colts go through the make-shift sales ring in the paddock at Gulfstream Park during Fasig-Tipton's Florida Sale.
Unbridled's Song was originally slated to have five of his final foals go through the ring this week but a colt out of a half-sister to Hansen's dam Stormy Sunday (Sir Cat) was scratched before the sales week started. But while Hansen gave that colt's page a nice set of blacktype, the colt had the weakest pedigree of the Unbridled's Songs so his scratch still leaves buyers with a lot of options.
The strongest page of the quartet on offer may be Hip 40, consigned by William B. Harrigan as agent.
Out of stakes placed Malibu Legacy (Malibu Moon), the bay colt's only sibling to race was a $360,000 yearling who has one win and six placings in 11 starts. Malibu Legacy is a half-sister to stakes winner Shameful (Flying Chevron) who produced two-time champion Indian Blessing (Indian Charlie) and Grade 3 winner Roman Threat (Roman Ruler). Shameful takes up so much room under the second dam that there is barely any room for the third dam.
That third dam is a half-sister to the granddam of Japanese Horse of the Year Zenno Rob Roy (Sunday Silence) and one of the second dam's foals is a winner in Japan so this guy may be of interest to any Japanese buyers who are at the sale this week. One thing that may hurt this colt is that he worked an eighth of a mile in :11.0, which tied with five others (including another Unbridled's Song) as the second slowest of the day. However, the breeze came in the middle of the second set as the track seemed to be slowing down and visually it didn't look like a bad breeze so it may not hurt him as much as if he worked in the first set.
HIP 40 BREEZING
Unbridled's Song's other three offerings are by no means slouches in the pedigree department, however.
Hip 11 is out of the Grade 2 winner Golden Dawn (Hennessy) who herself is out of a Grade 2 winner. The chestnut worked in :10.2, setting him just a tick off the 10 horses who worked the bullet :10.0 on Monday.
Hip 18's first two dams are both winners but the third dam is the first one to bring in black type with that dam being a stakes winner in addition to producing two. Hip 18's dam has two other foals of racing age but neither have started yet.
The final Unbridled's Song to go through the ring on Wednesday night is Hip 74, a dark bay out of a winning Storm Cat mare. His half-sister is a winner in Japan and his second dam is stakes placed. He comes from the family of multiple Grade 1 winner Rock Hard Ten (Kris S.) and Puerto Rico champion Mi Amigo Guelo (Dehere).
Last year Unbridled's Song had 14 of his 18 2-year-olds sell for an average of $166,071 according to Thoroughbred Daily News with his 2014 average of 13 sold at $225,000 and his 2013 average from 17 sold at $221,764. All four colts on offer this week went through the sales ring as yearlings with three of them selling and helping his yearling average of $243,725 last year.
A multiple Grade 1 winner himself, Unbridled's Song is the sire of 17 crops with 80 live foals born in his final crop with Equineline listing 75 current 2-year-olds. The stallion has 1550 foals with 53 winning graded stakes and 100 stakes winners overall with three champions and 19 Grade 1 winners. Eighty-seven of his other runners have placed in stakes while 741 other horses have won at least one race as of Feb. 28.
Through the first two months this year, he is currently sitting 12th on Blood-Horse's Leading Sire rankings with 18 winners from 76 runners and three graded stakes winners led by Forever Unbridled. The three graded stakes winners ties him at the top of the list with Tapit (Pulpit) and Bernardini (A.P. Indy).
In the 2000s, Unbridled's Song was a top 10 sire by earnings twice with many years spent in the top 15. He's sired four Breeders' Cup winners with the latest coming last year when Liam's Map won the Grade 1 Las Vegas Dirt Mile but is missing an American classic winner on his resume, although he still has two batches of 3-year-olds to right that gap.
Liam's Map winning the Breeders' Cup Mile
As a stallion who produced racehorses at the top level, it isn't a surprise that Unbridled's Song has many sons at stud. Seventy-one sons of Unbridled's Song are listed on Blood-Horse's Stallion Register with a mix of proven and unproven sons.
Songandaprayer is one of the older stallions by Unbridled's Song at stud with 14 crops on the ground. His progeny have earned over $44.2-million with two champions, seven graded stakes winners and 34 stakes winners. Standing in Louisiana, he has constantly ranked near the top of the state's general sires list and was the top sire in the state from 2012 to 2014. The stallion was unseated last year by another Unbridled's Song son in Half Ours with the two stallions sitting in the top four in the state's
standings for 2016 right now.
In Kentucky, Unbridled's Song is represented by multiple established sires with Even the Score siring two champions and multiple Grade 1 winner Dullahan; First Defence siring champion Close Hatches; and young son Midshipman siring Breeders' Cup Turf Sprint runner-up Lady Shipman in his first crop. Until recently, Unbridled's Song also had the 10-year-old Old Fashioned standing in Kentucky but he was sold to South Korea earlier this year.
Close Hatches
As for young sons, Unbridled's Song has an exciting line-up representing him in breeding sheds around the country. His son Mission Impazible, who stands in New York and has his first 2-year-olds this year, had his only 2-year-old in the Florida Sale work a bullet on Monday. The yearling sales market will also have a strong offering of first crops from Unbridled's Song with New York-based Emcee, Florida-based Winslow Homer and Kentucky-based stallions Graydar and Keep Up all having their first yearlings.
Perhaps the most exciting Unbridled's Song son to retire in recent years is champion Will Take Charge, out of Take Charge Lady. He leads the charge of Unbridled's Song sons with first foals on the ground this year and is joined by Canada stallion Rookie Sensation and fellow Kentucky stallion Cross Traffic. The most recent big name Unbridled's Song son to retire is Breeders' Cup winner Liam's Map who started his breeding career earlier this month at Lane's End in Kentucky
.
A Will Take Charge colt out of a graded stakes placed mare
The last, but definitely not least, of Unbridled's Song's producing talents is as a broodmare sire.
Much like his best stallions hitting the sheds recently, Unbridled's Song has also come on strong as a broodmare sire in recent years. This year, the stallion already has two stakes winners out of his daughters and is ranked ninth in the Broodmare Sire rankings with nearly $1.5-million in 2016 earnings. Last year, the stallion was second only to A.P. Indy (Seattle Slew) in the broodmare sire rankings with 291 winners and 23 stakes winners led by Grade 1 winner Carpe Diem (Giant's Causeway) and earned his first top 10 spot in 2014 after making his first top 50 appearance on the list in 2010.
Carpe Diem winning the 2014 Breeders' Futurity
Among the horses produced from Unbridled's Song daughters are Grade 1 winners General Quarters, The Lumber Guy, Unbridled Command and Carpe Diem with many other graded stakes winners helping to carve out the latest path of Unbridled's Song's legacy.
While there are still a few months until Unbridled's Song's final crop hits the track, industry insiders will be getting a sneak peek of the talent they hold in upcoming sales with a good number set to go through the ring at upcoming 2-year-old sales around the country after Fasig-Tipton's Florida Sale.