If one wants to find a successful Mr. Prospector son, they need to look no farther than multiple Group 1 Machiavellian.
Bred in Kentucky, Machiavellian was the first foal out of the impressive and blueblooded group stakes winning Halo mare Coup de Folie. Raced in Europe for Stavros Niarchos after selling as a yearling for $825,000, Coup de Folie returned to the United States at the end of 1985 for her first breeding season. Bred in the spring of 1986 she delivered a dark bay colt, later named Machiavellian, in January 1987.
Machiavellian was sent to France as a yearling and joined Francois Boutin's string for his racing career. Debuting in early August 1989, he won his first start by two lengths over another Mr. Prospect son in Jade Robbery. Machiavellian then reeled off two straight Group 1 wins in three weeks when winning the Prix Morny Agence Francaise on Aug. 20 followed by the Sept. 10 Prix de la Salamandre. His season ended after the second victory but it was still enough to earn him champion 2-year-old honors in the country.
PRIX DE LA SALAMANDRE
Starting his 3-year-old season in the Prix Djebel, he stayed undefeated when winning by 2 ½ lengths as a prep for a trip to England. It would be that trip that ended

Machiavellian's

undefeated streak when Tirol beat the French champion in the Group 1 General Accident 2,000 Guineas by two lengths. Tirol again defeated him in the Airlie/Coolmore Irish 2,000 Guineas in Machiavellian's first off-the-board start with Machiavellian ending his career that August when finishing last in the Group 2 Prix Maurice de Gheest.
Machiavellian retired to Dalham Hall Stud in England for the 1991 breeding season and quickly started making a lasting impact on the breed.
Of Machiavellian's 606 starters, 459 won with 15.5 percent of them winning at least one stakes race, including 44 group stakes winners. The best of those was U.A.E Horse of the Year and Dubai World Cup winner Street Cry and multiple Grade/Group 1 winners Storming Home and Almutawakel. Overall, Machiavellian sired 44 group winners and 27 listed winners and 129 stakes horses.
Machiavellian proved to be a top racehorse sire but his biggest influence on the breed was as a sire-of-sires and sire of producers.
Less than 20 years after retirement, Machiavellian had a strong group of sons around the world from Street Cry in the U.S. and Australia to Medicean in Europe and Kahal in South Africa to Vettori in South America among many, many others.
The best of those may be Street Cry who alternated between Dubai and the U.S. during his racing career, winning Grade 1s in both countries.

Retired to Darley's Jonabell Farm for the 2003 season, Street Cry gave Darley a

Machiavellian son in the U.S. with the farm having another Group 1 winning son standing next to Machiavellian at Dalham Stud.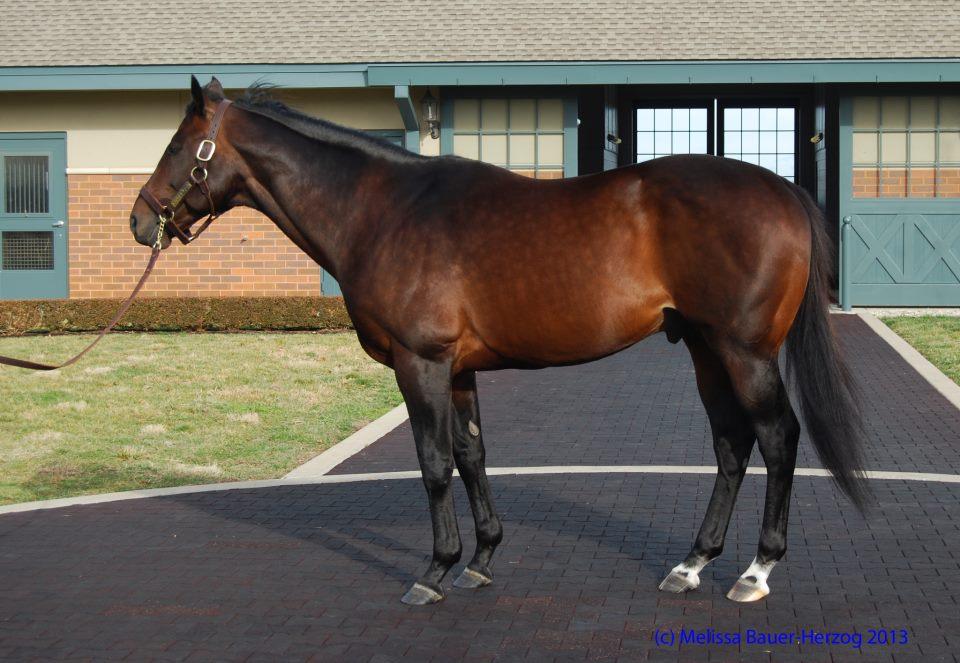 Street Cry
From the time his first crop hit the ground, Street Cry followed in his sire's hoofprints. He sired champions Street Sense and Zenyatta among others in 2004 to get his name out to breeders quickly. Thanks in large part to Street Sense, Street Cry led the First-Crop Sire list in 2006 before topping his respective crop lists again in 2007 and 2008. Pulling double duty by shuttling to Australia for Darley some years as well, Street Cry sired 2009 Melbourne Cup winner and champion Shocking, Cox Plate winner Winx and Caulfield Guineas winner Long John among many others. Street Cry died in 2014 with his final crop arriving in the U.S. in 2015.
In Europe, Machiavellian's son Medicean took up the task of the sire's leading son when he went to stud in 2002. A multiple Group 1 winner, Medicean has sired racehorses such as Henkel Preis Der Diana (German Oaks) winner Almerita, multiple Group 1 winner and sire Dutch Art and multiple Group 1 winner Siyouma among his eight Group 1 winners to date.
Unfortunately for those who want to breed to Machiavellian sons, in addition to losing Street Cry in 2014, his top South African sires Kahal was euthanized that year. According to Mikedekockracing.com, Kahal had been named KZN Breeders Stallion of the Year five times and had sired 34 stakes winners including six Grade 1 winners at the time of his death.
While it is obvious that Machiavellian has continued to affect the breed as a sire-of-sires, his daughters have performed just as well. Machiavellian's daughters have produced 1,495 starters to date according to Equineline with 112 of them winning at least one stakes race with 64 winning a graded or group stakes and six being named champions.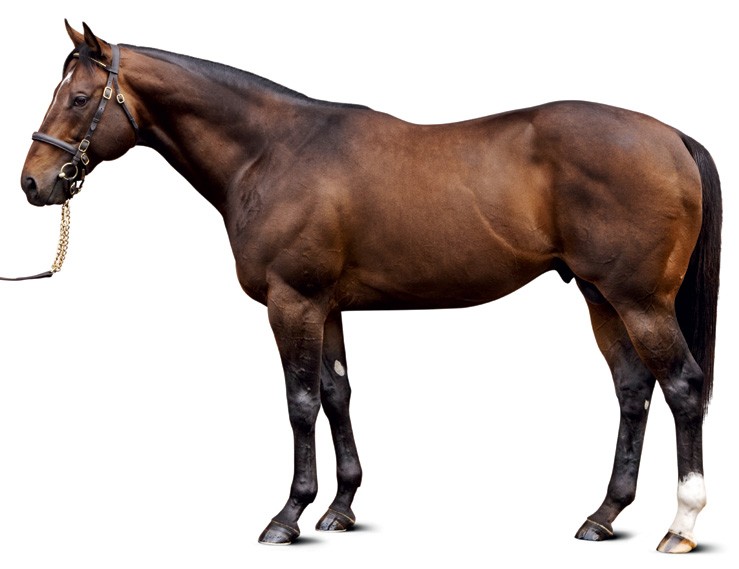 Shamardal (Darley Photo)
Among those group stakes winners are some familiar Group 1 winners with 2015 King's Stand and Qatar Prix de l'Abbaye de Longchamp winner Golddream, dual hemisphere Group 1 winner Gallante, Brazilian champion Jeune-Turc, 2015 William Hill Oakleigh Plate winner Shamal Wind, two-time Victoria Mile winner Vexina, multiple U.S. Grade 1 winner Red Rocks, 2016 UAE Group 1 winner Special Fighter and Japanese champion Victoire Pisa all adding to the stallion's resume in recent years.
The most important stallions from Machiavellian daughters may be classic winner Shamardal and Group 1 winner Dark Angel while young stallions Zoffany and Victoire Pisa are trying to add their names to that list with their first few crops of runners.
Standing at Darley's Kildangan Stud in Ireland, Shamardal entered stud in 2005, the year after Machiavellian died. In nine years of having runners, Shamardal has sired multiple Hong Kong Group 1 winner Able Friend, international Group 1 winner Dunboyne Express, multiple Australia Group 1 winner Faint Perfume, and Group 1 winner Mukhadram to become one of the most talked about stallions in the world.
Shamardal has three Group 1 winning sons at stud right now (a fourth, Captain Sonador, died in Australia in 2014 after three seasons at stud) with Lope De Vega the only living son to have horses older than two on the track. Lope Da Vega looks like he may be another strong sire in Machiavellian's legacy with the horse having two Group 1 winners and 10 group stakes winners overall with many of those stakes winners still active in 2016.
Retiring to stud in 2008, Dark Angel hasn't had many crops of racing age but that hasn't kept him from producing 14 group stakes winners including two Group 1 winners. Dark Angel is out of the unraced Machiavellian mare Midnight Angel and in his only season of racing (at two) won four of nine starts including the Group 1 Shadwell Stud Middle Park Stakes.
By the Royal Applause stallion Acclamation, Dark Angel is the sire of impressive sprint filly Mecca's Angel and two time Group 1 winner Lethal Force, who entered stud at Cheveley Park Stud in 2014. Dark Angel has 48 stakes horses overall with 30 winning stakes races including 666bet Superlative Stakes winner Birchwood and multiple Group 3 winner Markaz.
As noted above, Victoire Pisa is doing his part to keep Machiavellian's line healthy in Japan with his first crop of 3-year-olds running now. From 93 starters in that crop, the Neo Universe stallion has 36 winners, including Group 1 Oka Sho (Japanese 2,000 Guineas) winner Jeweler and listed winner Azur Rose. The stallion ranked second on the first crop sire list last year by earnings behind Casino Drive.
Zoffany
Fellow second-crop sire Zoffany has yet to have a Group 1 winner but the stallion is definitely holding his own at the other group stakes levels with six group stakes winner and four more listed stakes winners. Thought as mostly a sprint sire when his first foals hit the track, Zoffany proved he can also get long distance runners when his daughter Architecture finished second in both the Investec and Irish Oaks earlier this year.
For only retiring 25 years ago, Machiavellian has made a major impact on the worldwide Thoroughbred breed in a short amount of time with this article just scratching the surface of what he has achieved.
Machiavellian sired a relatively small group of 759 foals from 14 crops before he died in 2004 at the age of 17 due to laminitis. When he was euthanized in June of 2004, Dalham Hall's Managing Director Liam O'Rourke noted the influence Machiavellian was to have on the breed when talking to the Blood-Horse.
"Machiavellian has been a super horse to have anything to do with. He's been a terrific stallion, one whose influence will be with us for years to come through his sons and daughters. But above all else he was a lovely animal. His loss is a huge blow to everyone at Darley, particularly Tommy Sheridan who has looked after him since he first arrived here at the stud."
While Mr. Prospector has been an influential stallion on the breed through many of his sons, it's safe to say that
Machiavellian has played a major part in not only keeping his sire in the forefront around the world but also carving out his own legacy along the way.