Sires to Watch: North America's First Crop Stallions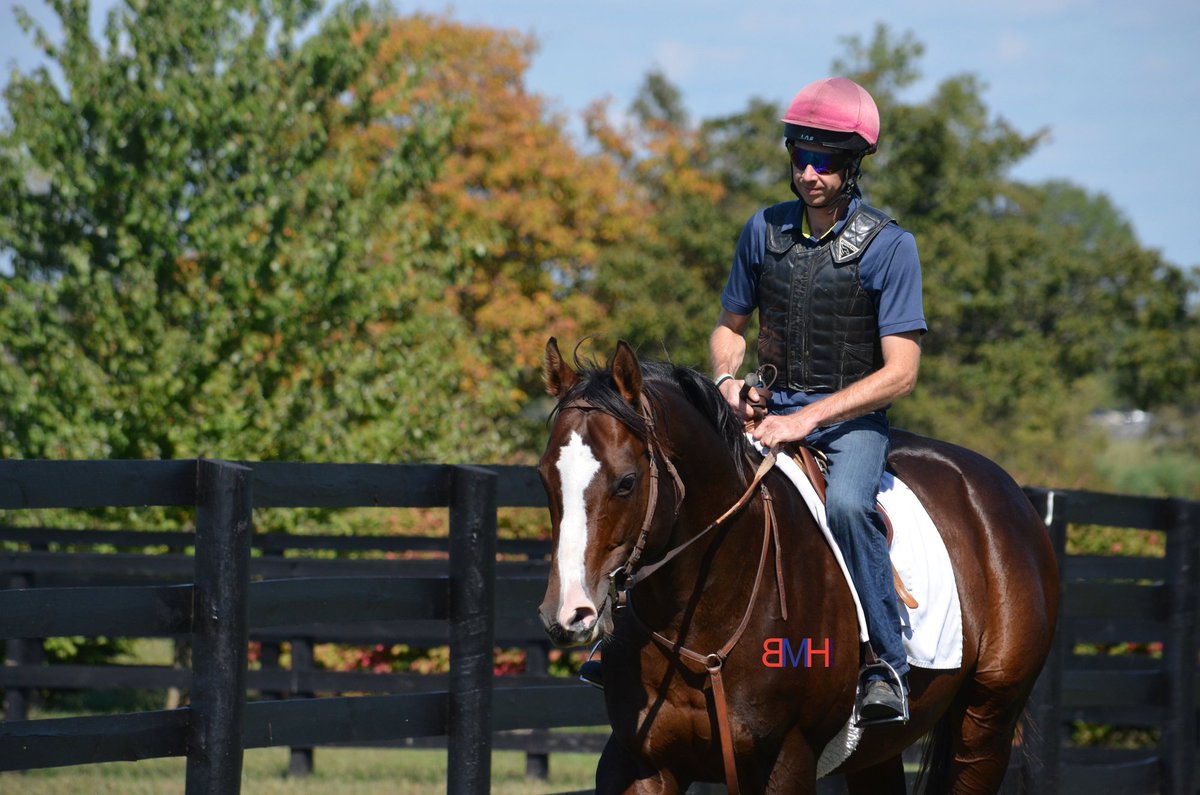 Bodemeister
Perhaps the deepest crop of first crop sires North America has seen in many years, 2016's leading first crop sire battle may be one for the ages. With multiple stand outs waiting for their chance to shine, it doesn't look like 2016 will have an Uncle Mo (Indian Charlie) type stallion to run away with the lead but instead a neck and neck stretch duel all the way around the track.
But who should you watch for at the top of the list? And who are some "smaller" stallions who may not have the number of foals needed to rock the rankings but may make some noise this year? Read below to find 10 stallions who answer at least one of the aforementioned questions.
A Florida stallion, Biondetti (Bernardini) won the Group 1 Gran Criterium at two and is a half-brother to the dam of multiple champion Royal Delta (Empire Maker). While his turf race record may have been a little iffy for a United States stallion prospect, that family helped him to attract a solid book of 108 mares with 68 live foals in 2014. Of those, one colt sold for $240,000 (approx. €210,544/£168,164) at OBS March last month to Fox Hill Farms and 12 more are consigned to OBS' Spring Sale taking place in a few weeks. While he probably won't get as much attention as the Kentucky stallions, he did breed a quality book of mares in 2013. He should be near the top of the Florida first crop rankings and may even make some noise on the national list later this year. He currently stands at Woodford Thoroughbreds for $4,000 (approx. €3,508/£2,801).
Possibly the most anticipated first crop sire in the United States this year, Bodemeister (Empire Maker) had 135 live foals in his first crop. The Grade 1 winning Kentucky Derby and Preakness runner-up had an $850,000 (approx. €745,679/£595,582) yearling filly and $500,000 (approx. €438,635/£350,342) yearling colt last year and a $650,000 (approx. €570,225/£455,445) 2-year-old colt this year so expectations are high for the stallion. The mares in that first book read like a who's who of talent, giving him a big chance to lead the first crop list. Bodemeister currently stands for $30,000 (approx. €26,311/£21,015) at WinStar Farm in Kentucky.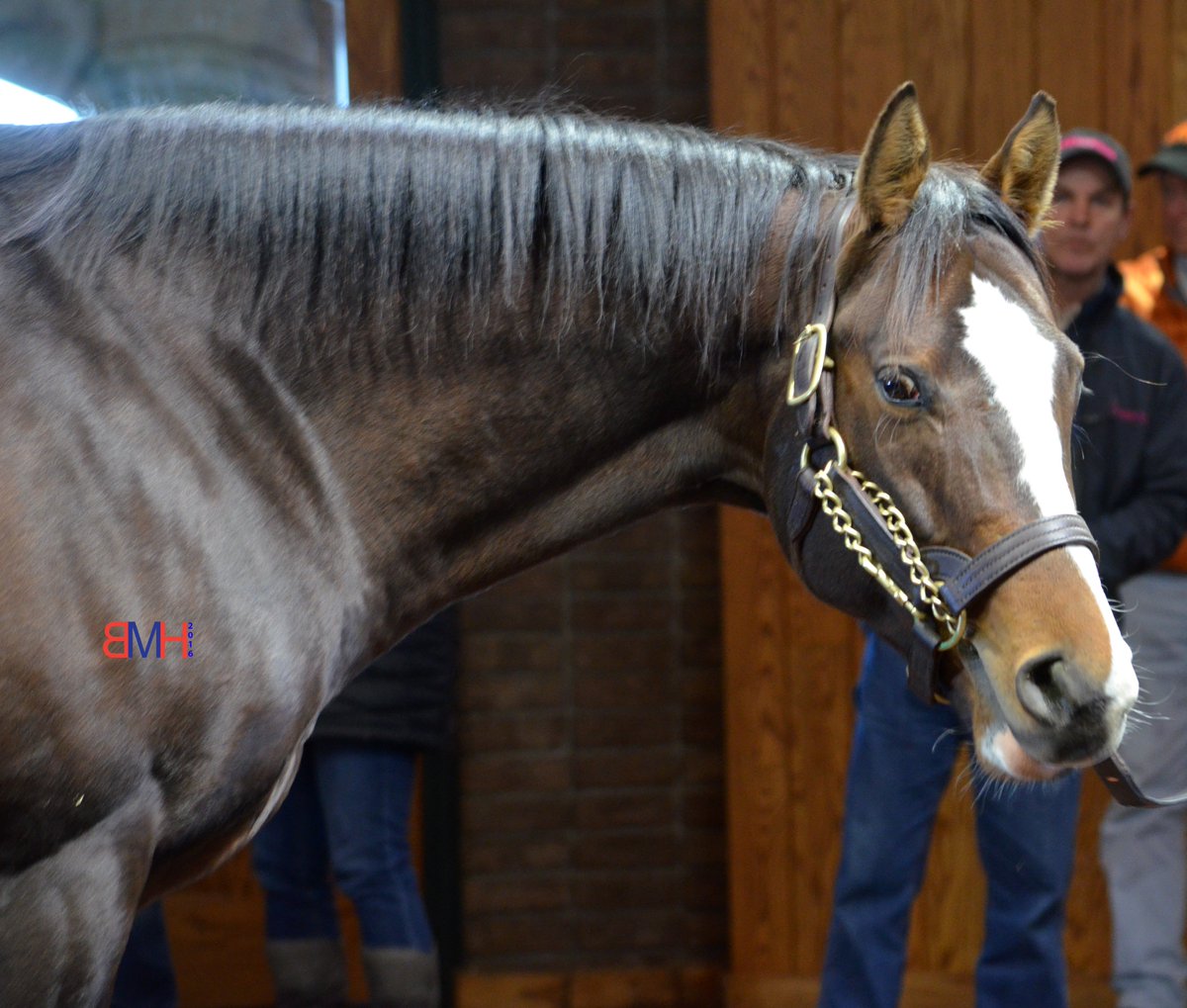 Bodemeister
Best known as Frankel's pacemaker, Bullet Train (Sadler's Wells) held his own on the track before taking up the pacemaker role for his half-brother brother later in his career. A winner of the Group 3 Totesports.com Derby Trial, Bullet Train has admittedly been better received in the southern hemisphere but has a strong marketing team behind him in Kentucky that helped him receive a solid amount of black type pedigrees in his 67-mare strong first book. It's hard for a stallion who didn't have a huge book to be extremely flashy on the first-crop sire rankings but Bullet Train should at least reward the breeders and owners of his first crop on the track with wins this year. Bullet Train currently stands for $7,500 (approx. €6,579/£5,253) at Crestwood Farm in Kentucky.
Bullet Train right after coming to the United States in 2012
One of the best 2-year-olds in 2011,
Creative Cause
(Giant's Causeway) was a top racehorse all the way through his career. The gray won the Grade 1 Norfolk Stakes at two and finished on-the-board in both the Grade 1 Del Mar Futurity and Grey Goose Breeders' Cup Juvenile in 2011 before winning the Grade 2 San Felipe Stakes (beating Bodemeister) at three and hitting the board in the Grade 1 Santa Anita Derby and Preakness. Standing at Airdrie Farm, Creative Cause bred 118 mares for 88 live foals in 2013 and as with all the farm's stallions you can expect that he was supported with the best of Airdrie's broodmares. A quick look at his sales horses bred by Airdrie shows that he was bred to mares like the
granddam of American Pharoah (Pioneerof the Nile);
the
dam of Grade 1 winners Include Me Out (Include) and Check the Label (Stormin Fever); the dam of champions Biofuel (Stormin Fever) and Tu Endie Wei (Johar); and Grade 1 winner No Such Word (Canadian Frontier) so the amount of success he has is definitely up to him from this point on. Creative Cause currently stands for $15,000 (approx. €13,158/£10,510).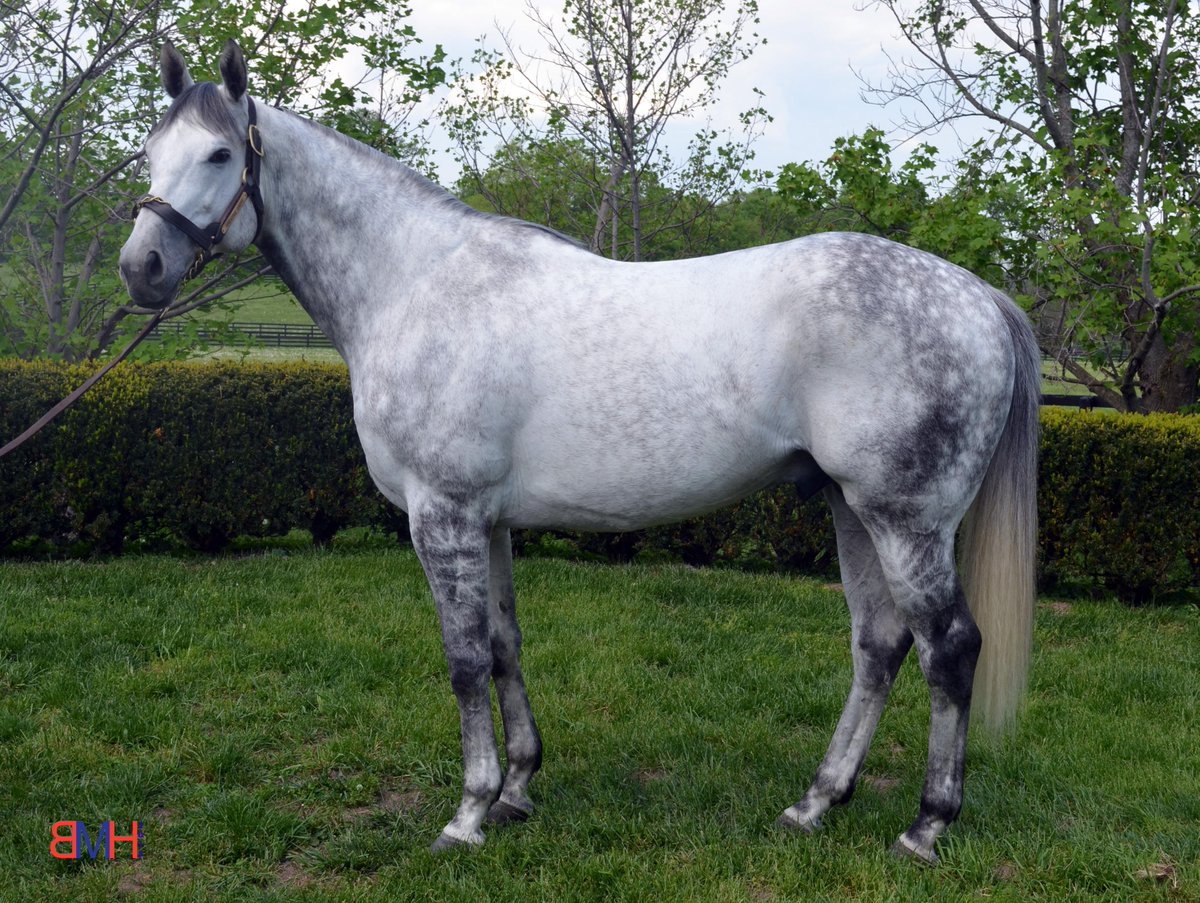 Creative Cause
My dark horse for this year's First-Crop Sires list is Crestwood Farm's Country Day (Speightsown). The Grade 2 Breeders' Cup Turf Sprint runner-up, the stallion has multiple stakes wins but never won at the graded level of the sport. However, he is a good physical and comes from the family of Alydar (Raise a Native) and Grand Slam (Gone West) so he ticks a few of the important boxes on the all-important list. Country Day probably won't make a huge amount of noise at the top of the sire's list with just 27 foals born in 2014 but he has a chance to be a really nice sire for the breed-to-race breeders out there. He currently stands for $3,500 (approx. €3,070/£2,452) at Crestwood Farm in Kentucky.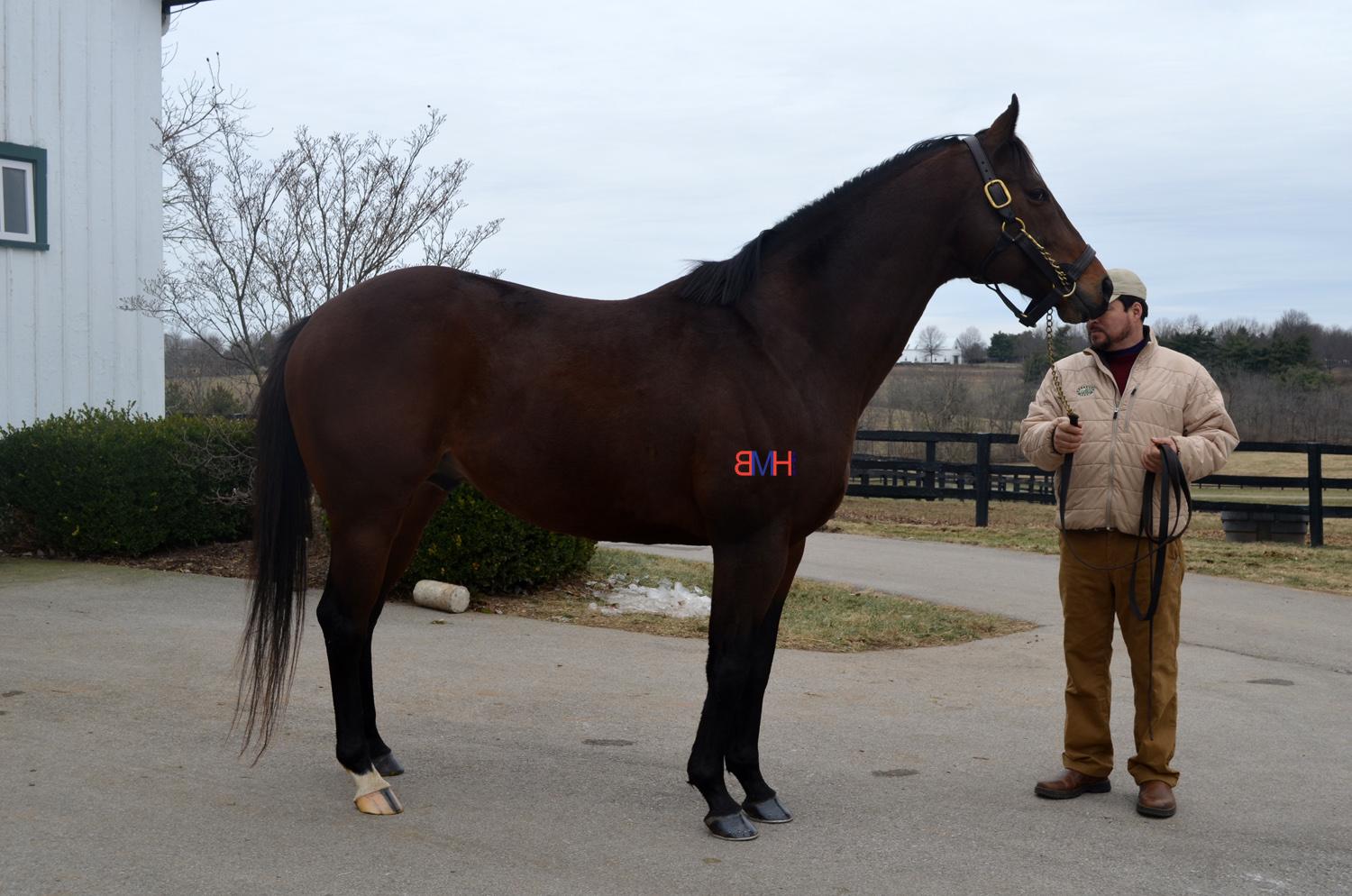 Country Day
One stallion who has impressed at 2-year-old sales this year is Gemologist (Tiznow). The stallion has a median of $160,000 according to Thoroughbred Daily News with all but one of his 2-year-olds who have sold going for over $100,000 (approx. €87,727/£70,068). Another four have RNAed for $90,000 (approx. €78,954/£63,061) or more. While 2-year-old sale success doesn't automatically translate to racing success, there has been a lot of buzz about the stallion and he had 118 foals born in 2014, giving him a big chance to make noise if his horses can take their talent from the breeze show to the starting gate. He currently stands for $15,000 (approx. €13,158/£10,510) at WinStar.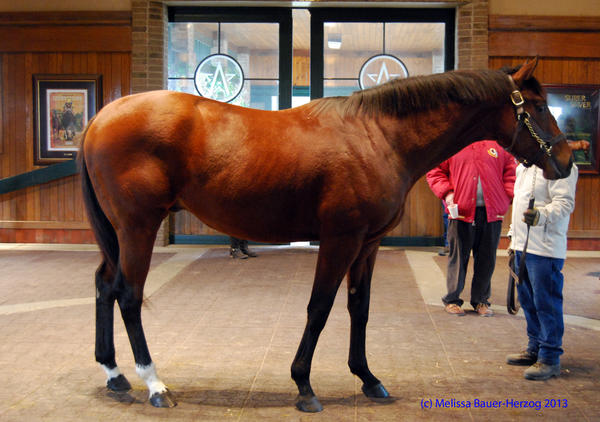 Gemologist in 2013
If you're one of the 43 people who had a
Mission Impazible
(Unbridled's Song) foal in 2014, you have to be feeling pretty good about his $7,500 stud fee right now. While the warning above holds true for Mission Impazible as well, his 2-year-old sale breezers have caught the eye in a big way. So far, of his three to sell (from four in the ring), none has sold for less than $120,000. He had one impressive enough to get into Fasig-Tipton's Florida Sale and that filly sold for $290,000 (approx. €254,319/£203,198), not too shabby for a New York-based stallion. He's another one who has a bit of an uphill battle with a smaller foal crop but those horses he does have hit the track should help him out if they live up to early year indicators. He currently stands for $7,500 (approx. €6,579/£5,253) at Sequel Stallions in New York.
You always have to pay attention to the Coolmore stallions as first year sires and this year Stay Thirsty (Bernardini) is the one to watch. A two-time Grade 1 winner, the stallion won from six to 10 furlongs and was second in a race at 12 furlongs as well. He isn't as flashy as stablemate Uncle Mo so far but did have 93 live foals in 2014 and was second in a Grade 1 at two so he should be a factor at the top of the rankings. His 2-year-olds have brought up to $300,000 (approx. €263,204/£210,312) and all but one who sold have realized more than $100,000 (approx. €87,734/£70,104) so at least buyers seem to be liking them this year. He currently stands for $10,000 (approx. €8,769/£7,010) at Ashford Stud.
Stay Thirsty
The first major son of War Front to have runners on the track, The Factor will have many eyes on him this year. He had 102 foals born in 2014 and has a current median at the 2-year-old sales of $120,000 (approx. €105,281/£84,107) from 10 sold with a median of $97,500 (approx. €85,541/£68,337) for last year's yearlings according to Thoroughbred Daily News so buyers must be liking what they see. The Factor was a speedball on the track, winning two Grade 1s at seven furlongs but was also able to carry his speed to 1 1/16 miles, making him an interesting mix of speed and at least a little stamina. Perhaps more important when it comes to War Front is that he won on the dirt (and all weather), giving breeders and owners the confidence that they won't be stuck in turf races. The Factor currently stands for $25,000 at Lane's End Farm (approx. €21,933/£17,528).
The Factor
An intriguing horse this year is Union Rags (Dixie Union). Winning the Belmont proved that he has the stamina to get a mile and a half but he was also a winner at five furlongs and won a Grade 1 at a mile as a 2-year-old. Union Rags won or hit the board in four Grade 1s during his career with six graded stakes placings overall and was well received when he retired for the 2013 season, breeding 137 mares for 108 foals. Last year his 59 yearlings sold had a median of $110,000 (approx. €96,520/£77,125) with this year's 2-year-olds having a median of $147,500 (approx. €129,425/£103,415) including a $975,000
(approx. €857,783/£686,694)
colt. Only a few strides from being named champion 2-year-old colt in 2011, Union Rags was a precocious racehorse and looks like he'll be in the hunt to give Lane's End another leading first-crop sire this year. He currently stands at the farm for $35,000 (approx. €30,715/£24,539).
Union Rags