When looking at the new stallion standing in the northern hemisphere during the 2013 breeding season, it was enough to make one's mouth water. Even with some of the best racehorses we've seen on either side of the pond in the group, it was definitely headlined by the undefeated Frankel, who has enough star power in the racing industry to eclipse a Hollywood awards show.
While getting mares pregnant is just the first round of tests a stallion undergoes at the start of his breeding career, Frankel excelled at that challenge just like he did his racing career. Of the 133 mares who visited Frankel in his first northern hemisphere season, 126 were scanned in foal.
Frankel covered one of the strongest books a first year stallion in recent history has gotten with 113 of his mares at least wining on the track and 92 (69 percent of his mares in foal) earning black type (winning or placing in stakes races).
Even more impressive is that Frankel attracted 38 Group or Grade 1 winners in that first year with 26 of his mates being the dams of Group or Grade 1 winners,
according to Racing Post
. Of those 38 Group 1 winners and 26 Group 1 producers, two of them fit both categories.
Like expected, the second test of seeing how his weanlings sell also earned him an A+.
While there were four RNAs, of the four who went home to new owners the top seller went for $2,259,720, according to Thoroughbred Daily News with a median of $761,542.
This year, with six to sell from six in the ring, his median has dropped slightly to $472,132 but his top seller so far has been a $1,277,535 filly. However, for the U.S. market, Frankel's acid test will come between September 14 and September 16 when he has five yearlings sell at the
Keeneland September Yearling Sale in Lexington, Ky., his first offspring of any age to go through a sales ring in North America
As he did on the racetrack, Frankel looks to dominate the freshman stallions at Keeneland, starting with Hip 183 and ending with Hip 698 (all first book yearlings). Those yearlings are out of mares who are either Grade 1 producers, half siblings to group/graded stakes winners or themselves are graded stakes winners.
The strongest of that grouping may be Rose of Summer, who produced Grade 1 winner Laragh and multiple graded stakes winner Summer Front and has four winners from seven foals to race.
Summer Front in April 2015
Summer Front's record at the graded stakes record is so impressive that it nearly pushes the accomplishments of his stakes placed granddam right off the page. However, they aren't long enough to boot off 2001 Grade 1 Hollywood Futurity winner Siphonic, who also finished third in that year's Breeders' Cup Juvenile, adding to the already strong page that Rose of Summer gives her yearling.
Other foals out of Rose of Summer have sold at public auction anywhere from $75,000 to $850,000 and unless this colt has a major problem, it won't be surprising to see him go near or above that top price. One interesting note on the pedigree of this yearling is that with Rose of Summer being by El Prado and Frankel being by Galileo, he has a 3 x 3 cross to very influential turf sire Sadler's Wells. Through other horses on his pedigree, he also has 5 x 5 crosses to Mr. Prospector and His Majesty (a horse other than Sadler's Wells also adds to his Northern Dancer blood with that cross sitting at 4 x 5 x 4).
The second strongest mare who has a yearling by Frankel in the sale could be multiple graded stakes winner India. India hasn't yet reproduced herself but only has two foals to race, with both of those being winners.
An earner of over $630,000, if India is anything like her dam or half-sister she will have a stakes winner in no time. India's dam Misty Hour is the dam of Pilfer, who held her own on the track but whose strength comes in the breeding shed. Pilfer is the dam of two-time Grade 1 winner To Honor and Serve (who entered stud the same year as Frankel) and Grade 1 winning 3-year-old Angela Renee. Her other winner from five to race is Elnaawi, who isn't as accomplished as his half-siblings but is a stakes winner and was third in the Grade 1 Donn and Grade 3 Gotham Stakes.
The other three mares with yearlings by Frankel at Keeneland aren't as accomplished on the track or in the shed as Rose of Summer or India but looking at their families, it it easy to see why they got in to Frankel's first book.
Perhaps the most amusing pairing was Frankel to Tashzara.
During his racing career, Frankel had a rival named Excelebration who couldn't get out of his shadow and finished second or third to him five times, with four of them being Group 1 races.
Tashzara is a half-sister to Excelebration, in addition to multiple Group 3 winner Mull of Killough and India stakes winner Shivalik Showers. While it can be debated that a colt like India's may stay in the United States, it would be shocking if Tashzara's colt races here instead of Europe or Japan as he is screaming out for European classic races.
One Frankel colt who is sure to grab the attention of both Europeans and Americans is Reaching's colt by the stallion.
Reaching herself was just placed, but the mare only raced three times before the Coolmore group retired her. By hot stallion Dansili, Reaching is out of Grade 1-placed Maryinsky. Maryinsky is out of the bluehen mare Blush With Pride and has already started her own legacy.
Maryinsky's filly Peeping Fawn was not only a dual classic winner in Ireland, she was also the 2007 European champion 3-year-old filly. Peeping Fawn retired after that year and her 2011 colt, named Sir John Hawkins. A winner on debut in 2013, Sir John Hawkins placed in two group stakes during his 2-year-old year but disappeared after a last place finish in Dubai as a 3-year-old.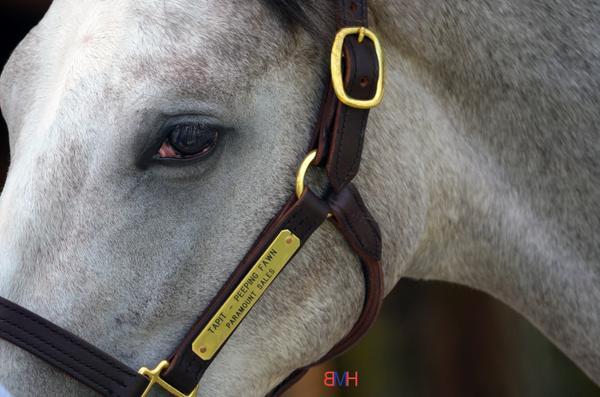 Peeping Fawn's colt at the 2014 Keeneland September Sale
Maryinsky is also the dam of Group 1 winner Thewayyouare, who sired 2014 U.A.E. Derby winner Toast of New York during his time in the United States. Thewayyouare now stands at Coolmore's base in Ireland. Other notable horses in Reaching's pedigree are 2006 and 2007 Belmont Stakes winners Jazil and Rag to Riches, who are out of Maryinsky's half-sister Better Than Honour.
It is ridiculous to call this final pedigree weak but compared to the mares above Compelling's colt, who is the first Frankel in the Keeneland ring, has just a little lower page value. Compelling was a winner at three in Ireland and placed in a handicap the race after that before retiring in mid-2011.
Compelling also has an unraced 2-year-old filly on the ground named Mondelice. Like this colt, she comes from a Sadler's Well's-lined stallion in the form of Sadler's Wells son Montjeu. Frankel's grandsire is Sadler's Wells so Compelling's yearling is 3 x 4 while Mondelice is 2 x 4.
While
Compelling didn't do much on the track, she does come from a successful family with her dam being a Group 1 winning filly who was the high-weight 2-year-old filly in both Ireland and England. That dam, named Damson, is also the dam of 2011 Group 2 winner Requinto. The young family is still active on the track with Independence Day placing in the Group 3 Curragh Stakes so there are plenty of updates to come on this colt's page.
Stakes winners also stand under the third and fourth dam, with at least one of those stakes winners under the fourth dam also producing a Group 1 winner.
Looking at the five Frankel offerings going through the ring, no one can complain about the United States getting weaker Frankel yearlings and they are sure to do their sire proud in the first three days of the sale. But for those who can't afford to put a bid in for a Frankel foal, the second week of Keeneland September brings a chance to buy into his family with 3/4 brother Bullet Train having 10 offerings at Keeneland, starting in Book 4 on September 22.